Don't confuse facts with fiction
October 18, 2016
Opinion by Arroyo Grande Mayor Jim Hill
Friday night we had a debate on the mayoral campaign arranged by the Arroyo Grande High School AP government class. I am glad our future leaders are aware of and concerned about issues facing our city, state and country.
Water is first and foremost on everyone's mind. At our last council meeting, the fact that the city has only an 18 month supply of water in Lopez Lake together with low groundwater levels was presented along with an array of options.
One option is a moratorium on building, something Councilman Tim Brown and I believe should be implemented immediately. My opponent, Richard Waller, is on record that residents should conserve an additional 50 percent so that a moratorium would not be required.
I believe the water residents have conserved should be reserved for their own future use, not allocated to additional development. Development should only be allowed to proceed if it is subject to a 150 percent conservation offset – the developer would pay to retrofit existing users, such as commercial dishwashers, residential washing machines and other facilities, so that 50 percent more water would be saved than the proposed project would use. These restrictions should start immediately and continue until the level in Lopez increases enough to carry the city through the start of wastewater recycling.
Unfortunately only Councilman Tim Brown and I supported the moratorium. The council majority voted not to start a moratorium until some large developments are given time to be approved.
My opponent argumentatively claims desalination is the panacea to our water issues, citing Israeli practice as exemplary. He ignores many important considerations in California, not the least of which is the Coastal Commission that typically opposes ocean intakes and outfalls which are required for desalination, and location of processing facilities in the coastal zone.
Richard Waller claims Israel builds desal facilities very cheaply, but in California we do not conscript our labor force. Building desal facilities is very expensive. A recent large scale desal plant in Southern California cost over a billion dollars. Construction is followed by expensive energy-intensive operation.
PG&E can use desal at Diablo Canyon because the energy is "house load." Mr. Waller claimed low cost "even if doubled" in Israel is irrelevant- it is far less than the actual cost in California as a result of regulation and other factors we do not control, and there is no available seawater intake.
Our best current alternative, which simultaneously eliminates discharge of partially processed waste water to the ocean, is full advanced treatment recycling. Recycling takes advantage of the primary and secondary processing we already provide and expands that with tertiary and full advanced treatment- meaning we only need to pay for construction of those additional parts of the process to achieve the result. Besides being our least cost and best alternative, it will also provide good paying construction jobs.
In Friday night's debate, my opponent claimed the city is losing staff due to "leadership issues." He first accused me of presiding over the termination of former city manager Steve Adams, which is obviously untrue as Mr. Adams resigned before my election as mayor. I am on record both before and after the time of his resignation as considering Mr. Adams a skilled and capable city manager.
The city council did recently remove the city manager by unanimous vote. Having himself no prior experience in hiring, my opponent claims the council did a poor job in that process, one he naively oversimplifies. In fact the entire council made that appointment very responsibly and worked hard to get it right.
Unfortunately, we were seriously misinformed by the recruitment firm and that appointment did not prove a good fit. After nearly a year when endeavors at realignment proved unsuccessful, the council unanimously took the difficult decision to release that person. All of us will redouble our efforts to make the right appointment in the future.
We have also lost a small number of staff members to Santa Maria and San Luis Obispo, but it is because those cities are indeed able to pay more and offer either full time positions or additional opportunity for advancement.
Arroyo Grande has an excellent staff; it may be smaller with several part time positions and we may never be able to pay quite as much as our larger neighbors, but we still offer a good paying, mutually supportive environment that is a great place to work.
Our police department provides exemplary service but has become almost chronically understaffed. Our council has unfortunately not been willing to recognize recent changes in PERS requirements that specifically affect the police, and retention and recruitment incentives offered by neighbor jurisdictions. All of these have impeded our ability to recruit and retain top quality candidates.
We have very high standards and cannot afford to lower them. We need to acknowledge those realities and step up our response. Doing nothing is not a viable option.
For some time I have pressed for the council to require full cost accounting of city services and projects so that decisions can be made with full awareness of economic impacts. We have recently taken action to require fees for most city services to be recovered at full cost from the applicants. Before that, taxpayers ended up subsidizing applicants in the processes. Full cost recovery will assure the beneficiary of a city service will pay the cost, not the taxpayers.
For capital projects, it is important that staff time and expenses be accounted to the project so that the full cost of each project is known. That will allow decisions to be made on complete projects or between competitive projects based on the inclusive cost and relative merits, and will also enable tracking of project milestones with respect to costs for more efficient performance.
For example, the prior mayor spent over $3 million to date on the Brisco interchange with little to show but failed designs. Proper review of costs during that process would have indicated problems with the concepts. I instigated the current temporary ramp closure which demonstrates the low cost build alternative will alleviate the congestion at Brisco and successfully worked to preserve SLOCOG funding commitments for the project.
My opponent seems to think there are no problems with parking and traffic congestion in Arroyo Grande. I have long pressed to revise our parking requirements for new development to prevent parking problems before they arise. Adequate parking simply can't be provided after the fact. Unfortunately a number of previous projects, both commercial and residential, were under-parked and cause intractable problems going forward.
The council has finally agreed, and I am looking forward to seeing the revised standards. For businesses in the Village, proposals have been made to limit parking to two or three hours. If that were to be enforced, it would take dedicated staff that would cost money for salary and benefits.
A business assessment could be established to pay for that, but many of our businesses could not afford it. Neither does it seem fair for taxpayers to cover that. The best solution is good neighbor actions with employees parking in the outer sections of area parking lots and everyone being respectful of others.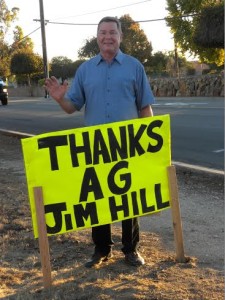 Traffic congestion here is a fact caused by growth and physical constraints. Growth on the mesa has increased traffic in the Halcyon corridor. Growth on the east side of the city increases traffic through the Village which is constrained by our topography of creek and hillsides resulting in congestion.
We need a grocery store on the east side of the city so residents don't have to make two-way trips on average twice a week through the Village to get basic necessities. Redirecting those trips would significantly reduce traffic and congestion through the Village and at Grand Avenue, Branch Street and Traffic Way and would be a welcome development opportunity.
We were asked about taxpayer-funded health insurance for council members. I do not take city paid insurance. I believe city office is essentially a voluntary position; we are paid a modest stipend and should not look to have other expenses paid by taxpayers.
Council members who work or whose spouses work, and those who are retired usually have other coverage. Mr. Waller indicated city paid insurance provides an incentive for lower income individuals such as himself to run for office.
I am glad for the support of the community in my re-election campaign and ask for your vote Nov. 8. I'm available at 805-481-5654 to discuss issues and answer questions.