Phillips 66 appeals rail spur denial
October 22, 2016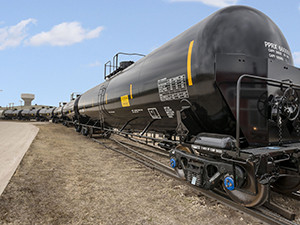 Phillips 66 appealed the San Luis Obispo County Planning Commission's denial of its rail spur project to the county Board of Supervisors on Wednesday, the last day the company could challenge the commission's denial.
In its request, Phillips 66 is asking supervisors to put aside the appeal while they seek a court ruling on the process county staff used to designate an environmentally sensitive habitat area. Phillips 66 expects that if a judge rules that the county misapplied land-use rules, the issue will be kicked back to the planning commission.
Phillips 66 is seeking approval to build a rail spur so that crude oil currently delivered by pipeline can be transported to the Nipomo Mesa refinery by train.
On April 5, after more than eight months of hearings, the San Luis Obispo County Planning Commission voted 3-2 to deny the controversial project. Commissioners Don Campbell and Jim Harrison dissented.
Commissioners Jim Irving, Eric Meyer and Ken Topping voted against the proposed rail spur project noting safety concerns and the wide spread opposition to the project.
Commissioners Harrison and Campbell argued that there are already trains transporting oil through the county, and that the Phillips 66 project would have a minor impact on the number of trains traversing the area.
Phillips 66 officials said oil production is decreasing in California, and the rail spur would allow the company to bring in crude oil from new suppliers. Company officials said, if the county rejects the rail spur, Phillips 66 will deliver the additional oil by truck.
If the Phillips 66 proposal is not sent back to the planning commission, the San Luis Obispo County Board of Supervisors will vote on the project, most likely in early 2017.