SLO doorbell camera captures would-be burglar
October 24, 2016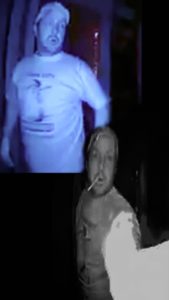 A doorbell camera linked to a phone app captured a man with gloves lurking outside a San Luis Obispo woman's home early Saturday morning. The video has circulated on social media and in the news, but police have yet to catch the would-be burglar.
The suspect rang the doorbell at the woman's home around 2:30 a.m. The woman initially assumed the man was a lost, drunk college student, her neighbor, Lisa Deutsch, stated in a Facebook post. Later, the woman watched the surveillance footage and realized that was not the case.
Footage from the doorbell camera shows the would-be burglar holding the door handle, presumably waiting for a resident of the home to try to open the door. The suspect then paced around the entrance to the home and eventually noticed the camera. He placed a finger over the camera, wiped the lens and then left.
Deutsch said in her Facebook post that police believe the suspect was armed because there was a black bulge in the back of his pants.
"It is very obvious he had bad intentions," Deutsch wrote. "i've almost always felt safe in SLO, however this man has now changed that."
The "Ring" app notifies users when someone is approaching their door and allows residents to watch video of what is going on outside the home. The video of the would-be burglar has been viewed nearly 300,000 times on Facebook.