Anti-Trump protests continue in SLO and in the nation
November 13, 2016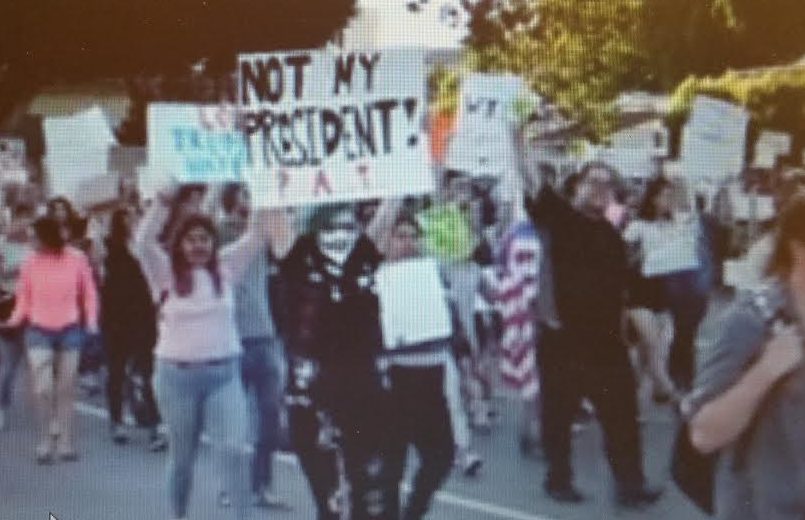 For the second time in several days, hundreds of protesters marched Saturday in San Luis Obispo to show their disapproval of Donald Trump. For the past four days, throughout the country people have protested the presidential election.
At 3 p.m., demonstrators met at the government center on Monterey Street and marched through downtown chanting phrases such as: "We reject the president-elect."
Protestors marched in cities including Los Angeles, Oakland, Las Vegas, Miami, San Francisco and Fresno.
While most protests were peaceful, in Portland, Oregon police arrested 19 protesters on Saturday during an "unpermitted" march, police said. On Friday, a Portland protester was shot in a confrontation on a bridge.
In Los Angeles, 180 people were arrested during anti-Trump protests.
Some protestors, such a radio host Dave Congalton, have asked Trump to denounce an increase in racial violence they blame on his election:
"In Petaluma, confederate flags were on display at a Veterans Day parade," Congalton wrote on Facebook. "In Michigan, a man demanded that a young woman remove her hijab or be set on fire with a lighter…In Minnesota, racist, pro-Trump graffiti painted inside a high school…the Southern Poverty Law Center has counted hundreds of instances of hateful intimidation and harassment since the election of Trump (that's less than one week).
"And yet the man in Trump Tower remains silent, more preoccupied by debating whether he'll move to the White House or remain in New York.
"So we march. We protest. We speak with one voice and we'll continue to speak out–until Donald Trump realizes the nightmare his rhetoric has created–and joins us in speaking out against it. That's what a President does."
On the other side, Trump supporters such as Roger Freberg argue that hate and violence against Trump supporters is being ignored by the local media.
"I remember the Republican riots after Romney lost… oh yeah, that never happened," Freberg responded to Congalton. "A search has found that much of that didn't happen… but the attacks on Trump supporters are real. Trump supporters are not setting fire to buildings or rioting… your on the wrong side of history once again Dave."