California Democrat Party considering financial disclosure rules
November 21, 2016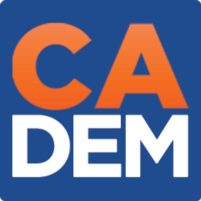 In response to a controversy involving one of its leaders, the California Democratic Party is considering a new rule that would require its officials to disclose any compensation they receive in exchange for advocating for a statewide ballot measure or in support of a candidate for state office. [LA Times]
Eric Bauman, the chairman of the Los Angeles County Democratic Party and a candidate for state party chair, is facing criticism for his political consulting work during the recent election cycle. Bauman's consulting firm, North Hollywood-based Victoryland Partners, received more than $100,000 from the pharmaceutical industry, which was opposing Proposition 61.
Had it passed, Prop. 61 would have prohibited state agencies from paying more for prescription drugs than the lowest price that the federal Department of Veterans Affairs pays. The initiative failed with 54 percent of voters opposing it.
Baumana's firm was also a paid consultant for backers of Prop. 51, a $9 billion bond for statewide school construction projects; Prop. 52, an initiative that makes a hospital fee program permanent in order to help fund Medi-Cal; and Prop. 64, the marijuana legalization measure. Each of those three initiatives passed.
Over the weekend, the state Democratic Party's rules committee discussed the proposed disclosure policy at a party executive meeting in San Diego. The committee voted to draft the proposal, which will come up for a vote at the party's May convention in Sacramento.
Bauman said he supports the proposed rule changes "100 percent."
Kimberly Ellis, who heads an effort to get Democratic women elected and is also a candidate for state party chair, said the proposal calling for members to merely disclose financial interests in a ballot measure or candidate is too vague. Ellis asked the committee to broaden its scope.
"Is this a party of the special interests or is it a party of the people?" Ellis asked.