Gay man reportedly assaulted by Trump supporters
November 21, 2016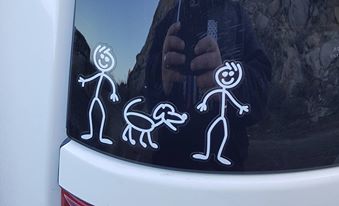 By KAREN VELIE
San Luis Obispo police are treating the assault of a 47-year-old gay man near the Frog & Peach Pub on Hiquera Street as a hate crime, said Capt. Chris Staley.
On Nov. 10 at about 9:30 a.m., Alan Estes of Morro Bay parked his SUV on Hiquera Street with plans to take his dog for a walk. After Estes walked around to the passenger side door to retrieve his jacket, he heard a couple men talking about the two stick figure men and a dog on the SUV's back window.
One of the men then hit Estes in the back of the head while yelling, "Trump hates fags." Estes turned around to see both men running down Hiquera Street, Estes said.
"I've never had problems in SLO before," Estes said. "This nasty election and this happens. I just don't feel safe."
While Estes did not see his attacker's faces, he said both men appeared fit, had shortly cropped hair and were wearing jeans and matching green shirts.
Because he did not need medical care, Estes said he headed home. But later in the afternoon, Estes' husband Ruben Garcia stood by while Estes reported the incident to police.
On Friday afternoon, an officer called Estes to gather more information and to say that the department planned to review video tapes from businesses in the area of the assault, Estes said.
Staley said the department plans to follow up on the report it had taken on Nov. 10.
"We did take a report and it will be followed up on and treated as a hate crime," Staley said.