CCN trial delayed until March
November 8, 2016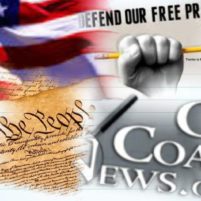 CalCoastNews and its founders will face trial March 6 after a delay was granted by San Luis Obispo County Superior Court Judge Barry LaBarbara. The trial had been scheduled to start this week.
The libel action has been brought by Charles Tenborg, whose company, Eco Solutions, hauled hazardous waste and contracted with the county's Integrated Waste Management Authority. Tenborg was upset over a 2012 article which discussed his questionable handling of hazardous materials.
Tenborg's attorneys, James W. Wagstaffe and Ivo Labar, appeared in person at the ex parte hearing and argued against the delay.
Kerr & Wagstaffe, a San Francisco law firm, has a three-decade relationship with local lawyers Adamski Moroski Madden Cumberland & Green, which in turn represents the IWMA. James Duenow represented CalCoastNews at the hearing.
CCN has turned to GoFundMe to help cover the cost of the suit.