Erik Howell's partner accused of stealing campaign signs
November 3, 2016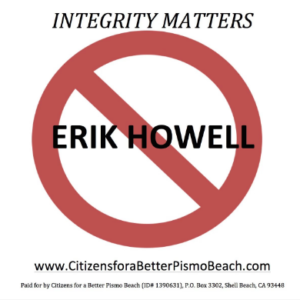 The domestic partner of Pismo Beach Councilman Eric Howell is accused of stealing yards signs erected by political opponents of the South County politician. The alleged yard sign theft is the latest development in an ongoing controversy surrounding the California Coastal Commission. [LA Times]
Howell, who sits on the California Coastal Commission, is currently running for reelection to the Pismo Beach City Council. He must win reelection in order to keep his seat on the state commission.
In February, Howell, who is widely viewed as being pro-development, voted to fire the commission's executive director Charles Lester, who was widely viewed as an environmentalist. The commission fired Lester on a 7-5 vote.
Howell is currently named in multiple lawsuits, one of which accuses him of 96 violations of disclosure laws. The allegations pertain to Howell meeting in private with representatives of developers and allegedly failing to properly disclose the ex parte meetings.
Likewise, Howell has taken heat for accepting a campaign contribution from the domestic and business partner of a lobbyist and then voting in favor of a project the lobbyist was pushing. An FPPC investigation into the matter is ongoing.
In response to Howell's alleged misconduct on the Coastal Commission, the group Citizens for a Better Pismo Beach has launched efforts to oust Howell from the city council and consequentially the state body. The group has been distributing yard signs that say "integrity matters" and display Howell's name in a "no symbol."
After more than 20 of the yard signs reportedly went missing, Pismo Beach resident Ed Henry placed a sign on Highland Drive and staked it out with a pair of binoculars. About 45 minutes later, a light-colored Hyundai approached, a person got out of the car and removed the sign and drove off, Henry said.
Henry snapped a photo of the car driving off with yard sign. DMV reports say the license plate in the photo is registered to Don Stewart, who lives with Howell, Henry said.
Stewart later emailed Henry, stating he removed the signs at the request of the property owner.
As Citizens for a Better Pismo Beach complained about their signs disappearing, LA Times columnist Steve Lopez visited the Central Coast in an attempt to speak to Howell. Lopez went to Howell's home, where he found the front door open and the councilman sitting on a sofa inside.
Howell said he was busy; then he put on his shoes, left the house and hurried across the street to his car, Lopez wrote. Howell said his campaign was going well, but he had to run. The Pismo Beach councilman then ignored Lopez's subsequent requests for comment.