Trump win sets off Cal Poly protests
November 10, 2016
 p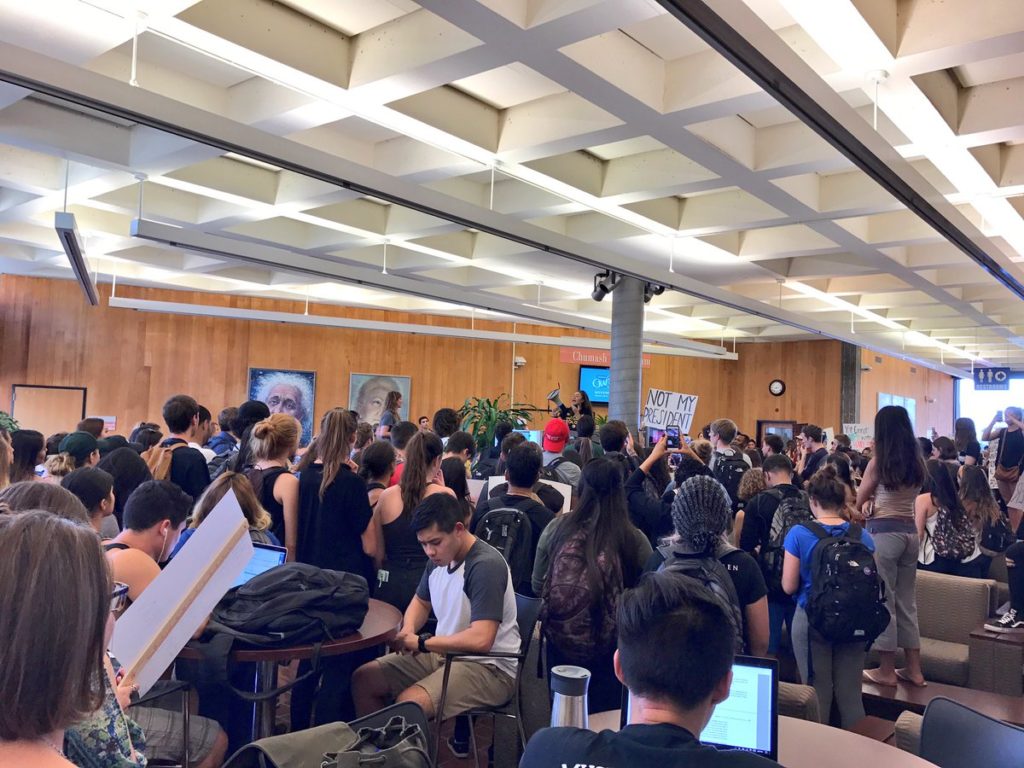 Joining disgruntled liberals and leftists state-and-nationwide, hundreds of students at Cal Poly protested President-elect Donald Trump's election victory. The Cal Poly students marched across campus Wednesday chanting slogans like "love trumps hate" and "not my prez," as well as "fuck the wall. Dump Trump."
In addition to protests, a Cal Poly Against Donald Trump group sprouted on Facebook. The group has more than 400 members, as of Thursday morning.
"This group aims to garner support at the local level for a Democratic resurgence," said Isaac Schick, the group organizer. "The situation is Donald Trump, someone who has never held a political office, has included firing the generals, killing the families of terrorists, dropping countries that can't pay the United States (countries that are fearful of Russian aggression) from NATO, banning Muslims from the country and of course building a wall and making Mexico pay for it, in his list of policy decisions, has just become our next president."
Schick is calling for Trump protesters to join a demonstration Thursday in support of Cal Poly students who do not have legal status in the United States. Another protest against Trump is scheduled for Saturday outside the San Luis Obispo courthouse.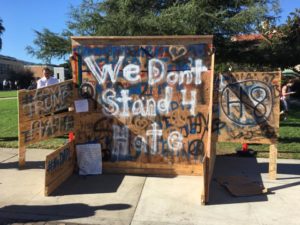 The protests against Trump broke out at a time when tension was already rising on campus over a free speech wall erected by the Cal Poly College Republicans. Bigoted language, as well a swastika reportedly appeared on the wall, and a person later spray painted over writing it contained.
Cal Poly President Jeffrey Armstrong stated on Twitter Wednesday that he completely supports students' right to protest.
In Los Angeles, thousands of protesters poured onto streets Wednesday night and hundreds of them later shut down traffic on Highway 101. The protesters also burned Trump's head in effigy. [LA Times]