9 festive foods to make during the holidays, recipes
December 16, 2016
There are many wonderful things about the holidays like presents, parties and lights. But the best is great food shared with family and friends. Find the perfect desserts and dishes with a little help from Spencer's Fresh Markets in Morro Bay and Santa Maria.
Spiced Rum-Nut Brittle
Brittle with some zing!!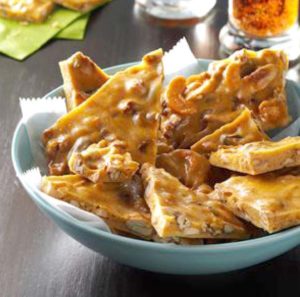 Ingredients:
1 cup sugar
1/2 cup light corn syrup
1/2 cup chopped cashews
1/2 cup chopped pecans
1 teaspoon butter
1/2 teaspoon ground cinnamon
1/4 teaspoon cayenne pepper
1/8 teaspoon salt
Pinch ground nutmeg
1 teaspoon baking soda
1/2 teaspoon rum extract
1/2 teaspoon vanilla extract
Directions:
1. Butter a 15-inch by 10-inch by 1-inch pan; set aside.
2. In a 2-quart microwave-safe bowl, combine sugar and corn syrup. Microwave, uncovered, on high for three minutes, stir. Microwave two-1/2 minutes longer. Stir in the cashews, pecans, butter, cinnamon, cayenne, salt and nutmeg.
3. Microwave, uncovered, on high for two minutes or until mixture turns a light amber color (mixture will be very hot). Quickly stir in baking soda and extracts until light and foamy. Immediately pour into prepared pan; spread with a metal spatula. Cool completely. Break into pieces; store in an airtight container.  Yields one pound.
Meatball Parmesan Skewers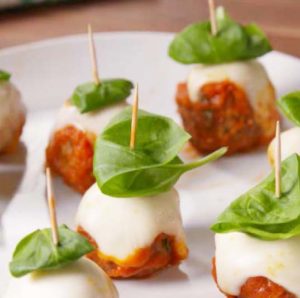 Ingredients:
1 lb. ground beef
1/2 c. bread crumbs
1 egg, lightly beaten
2 tbsp. chopped parsley
4 garlic cloves (divided)
1/2 c. finely grated Parmesan, divided
kosher salt
Freshly ground black pepper
5-6 mozzarella slices, cut into small squares
Fresh basil leaves, for serving
Directions:
1. Mince two cloves of garlic and thinly slice the remaining two cloves.
2. In a large bowl, add ground beef, bread crumbs, egg, parsley, minced garlic and ¼ cup Parmesan. Season with salt and pepper. Mix until just combined. Roll into golf-size balls.
3. Heat olive oil in a large skillet over medium-high heat. Add the meatballs and cook to brown on all sides. When the meatballs have developed a nice crust, remove from skillet and wipe skillet clean. Return skillet to stovetop over medium heat. Pour marinara into the skillet. Stir in thinly sliced garlic and remaining Parmesan, bring sauce to simmer then add the meatballs back to the pan. Spoon sauce over the meatballs. Cover the pan with a lid and simmer meatballs for another 10-12 minutes, or until cooked through.
4. Top each meatball with mozzarella. Cover pan with lid and cook until the cheese is melted. Turn off heat. Top each meatball with a whole basil leave, folded, and pierce with a toothpick to serve.
Crab Cake Bites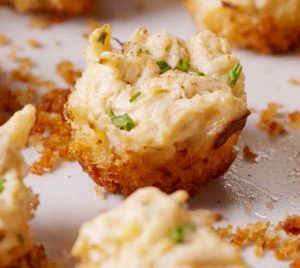 Ingredients:
6 ounce lump crab meat
6 ounce cream cheese, softened to room temperature
1 egg, lightly beaten
3/4 c. sour cream, divided
2/3 c. finely grated Parmesan, divided
1 1/2 tsp. Old Bay seasoning, divided
2 tsp. lemon juice
1 tsp. lemon zest
Pinch cayenne pepper
2 tbsp. finely chopped chives, divided
kosher salt
Freshly ground black pepper
1 c. Panko bread crumbs
6 tbsp. butter, melted
Directions:
1. Preheat oven to 350 degrees. Grease a 24-cup mini muffin pan with nonstick cooking spray.
2. Combine crab meat, cream cheese, egg, ⅓ cup Parmesan, 1 tsp. Old Bay, sour cream, lemon zest, 1 tsp. lemon, cayenne and about 1 tbsp. chives in a large bowl. Season with salt and pepper and stir until evenly combined.
3. In a separate bowl, combine remaining cheese, bread crumbs and melted butter. Divide mixture between muffin pan cups and press around the edges of cup to make a crust. Spoon the crab mixture into each cup and bake for 20-25 min. until the edges begin to turn golden brown.
4. Meanwhile, make dipping sauce. Combine sour cream, remaining chives, 1 tsp. lemon juice and remaining Old Bay. Stir to combine.
Peppermint Meltaways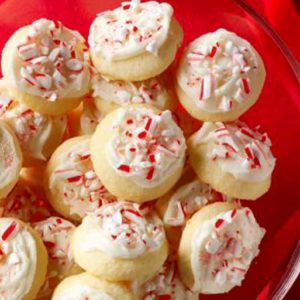 Ingredients:
1 cup butter, softened
1/2 cup confectioners' sugar
1/2 teaspoon peppermint extract
1-1/4 cups all-purpose flour
1/2 cup cornstarch
Frosting:
2 tablespoons butter, softened
2 tablespoons 2% milk
1/4 teaspoon peppermint extract
2 to 3 drops red food coloring, optional
1-1/2 cups confectioners' sugar
1/2 cup crushed peppermint candies
Directions:
1. In a small bowl, cream butter and confectioners' sugar until light and fluffy. Beat in extract. In another bowl, whisk flour and cornstarch; gradually beat into creamed mixture. Refrigerate, covered, 30 minutes or until firm enough to handle.
2. Preheat oven to 350 degrees. Shape dough into one-inch balls; place two inch apart on ungreased baking sheets. Bake nine-11 minutes or until bottoms are light brown. Remove from pans to wire racks to cool completely.
3. In a small bowl, beat butter until creamy. Beat in milk, extract and, if desired, food coloring. Gradually beat in confectioners' sugar until smooth. Spread over cookies; sprinkle with crushed candies. Store in an airtight container. Yields about 2-1/2 dozen.
Chocolate Peppermint Stick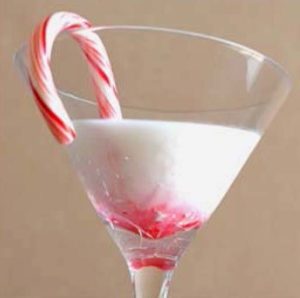 Ingredients:
1 1/2 ounce white crème de cacao
1 ounce cream
1 ounce peppermint schnapps
Directions:
Shake well with ice. Strain ingredients into chilled martini glasses. Garnish with a small peppermint candy cane (or, optionally, crush the candy cane and sprinkle it on top) and serve.
Slow-Cooker Bourbon Smokies

Ingredients:
2 lb. cocktail wieners
1 cup brown sugar
1 cup ketchup
1/2 cup bourbon
1/3 cup finely chopped shallot (from one small)
3 cloves garlic, minced
Directions:
1. In a small slow cooker, combine cocktail wieners, brown sugar, ketchup, bourbon, shallot, and garlic. Stir to combine and cover.
2. Cook on high until the bourbon smell has cooked off, six hours.
3. Serve with toothpicks.
Bourbon-Glazed Ham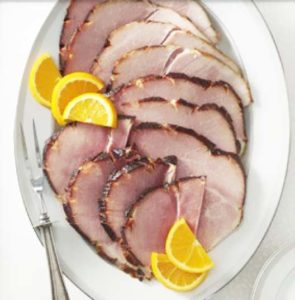 Ingredients:
1 fully cooked bone-in ham (8 to 10 lb.)
3/4 cup bourbon, divided
2 cups packed brown sugar
1 tablespoon ground mustard
1 tablespoon orange marmalade
1/8 teaspoon ground coriander
Directions:
1. Place ham on a rack in a shallow roasting pan. Score the surface of the ham, making diamond shapes 1/2 in. deep. Brush with two tablespoons bourbon. Bake, uncovered, at 325 degrees for two hours.
2. In a small bowl, combine the brown sugar, mustard, marmalade, coriander and remaining bourbon; spoon over ham. Bake 30 minutes longer or until a meat thermometer reads 140 degrees. Let stand for 15 minutes before slicing. Yields 16 servings.
Strawberry Cheese Ring Appetizer
This appetizer creates a pretty display for a party and guests love it!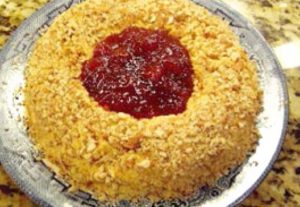 Ingredients:
16 ounces sharp cheddar cheese, grated (4 cups)
1 3-ounce package cream cheese, softened
¾ cup mayonnaise
1 small onion, chopped
1 cup chopped pecans or walnuts
½ teaspoon garlic salt or powder
1 cup strawberry preserves
Cayenne pepper to taste
Directions:
1. Combine all ingredients except preserves in a food processor or electric mixer.
2. Mix thoroughly and refrigerate for two to three hours.
3. Scoop mixture onto a platter.
4. Use your hands to mold mixture into a ring formation
5. Add strawberry preserves in center of ring and serve with crackers
6. Note: When I make this for parties, I also add chopped nuts all over the surface. Serves 20 plus.

Notes:
If you're having a smaller gathering, cut the ingredients in half and make a smaller cheese ring. It looks and taste just as yummy.
Saltine Toffee Bark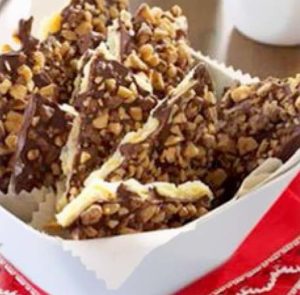 Ingredients:
40 saltines
1 cup butter, cubed
3/4 cup sugar
2 cups (12 ounce) semisweet chocolate chips
1 pkg. (8 ounce) milk chocolate English toffee bits
Directions:
1. Line a 15-inch by 10-inch by 1-inch baking pan with heavy-duty foil. Arrange saltines in a single layer on foil; set aside.
2. In a large heavy saucepan over medium heat, melt butter. Stir in sugar. Bring to a boil; cook and stir for one to two minutes or until sugar is dissolved. Pour evenly over crackers.
3. Bake at 350 degrees for eight to 10 minutes or until bubbly. Immediately sprinkle with chocolate chips. Allow chips to soften for a few minutes, then spread over top. Sprinkle with toffee bits. Cool.
4. Cover and refrigerate for one hour or until set. Break into pieces. Store in an airtight container. Yields two pounds.