Burglar nabs silver dollars from SLO coin shop
December 7, 2016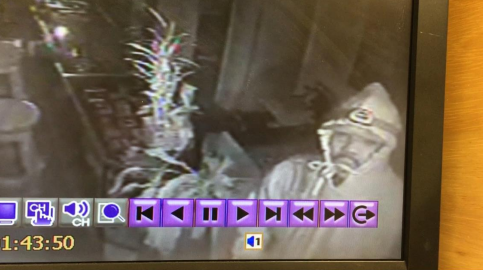 A burglar broke into a San Luis Obispo coin shop early Monday morning, stole several items and managed to evade capture. The man's face was caught on surveillance film, though.
At 2:20 a.m., San Luis Obispo police officers responded to a burglary alarm at Crawford enterprises at 253 Granada Drive and found that the front door of the business had been forced open and damaged.
When they entered the store, the officers saw the display cases had been opened and that several coins and other items were on the ground. The owner of the coin shop then arrived and confirmed numerous pieces of property were stolen, including silver dollars, a police department press release states.
Police reviewed surveillance footage and saw that a suspect had entered the business and removed items from the display cases.
The suspect was wearing a hooded jacket with a baseball cap beneath the hood. The hood was tied tightly and was concealing part of the man's face. The suspect had a mustache and was wearing a headlamp.
Shortly following the burglary, an outdoor surveillance camera captured a vehicle leaving the scene. The vehicle was a small white or light colored two-door sedan.
Investigators are requesting that anyone with information about the identity of the suspect or suspects notify the police department.