Cause of The Sub fire in SLO remains 'undetermined'
December 14, 2016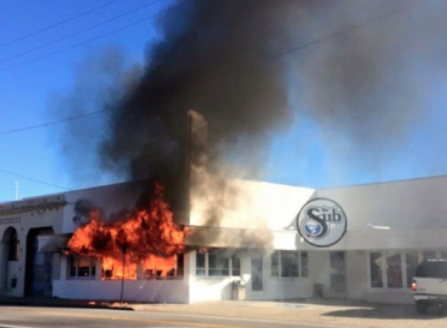 Nearly one year after a fire destroyed a popular San Luis Obispo retail store and head shop, city fire officials still have not assigned a cause to the blaze. The business, though, has posted on its Facebook page that arsonists caused the fire.
On Dec. 26, 2015, a fire broke out at The Sub on Higuera Street around 10:50 a.m. After 8 p.m. that day, smoke was continuing to billow from the business.
The fire sparked controversy because the owner of the business and the San Luis Obispo Fire Department traded blame for the extent of the damage. The Sub owners are making a documentary about the travesty that was done to it, according to The Subs Facebook page.
Recently, KSBY obtained the fire department's incident report, which lists the cause of the blaze as undetermined. Roger Maggio, San Luis Obispo's fire marshal, said inspectors could not complete an interior investigation because the building was so unsafe.
The Sub has posted on its Facebook page the fire was started in an area not accessible to customers.
In the aftermath of the fire, Richard Ferris, the co-owner of The Sub, said he arrived at the scene of the blaze 10 minutes after it started. At the time, the blaze was confined to the front box window, but no firefighter would take a hose in the building and fight the fire, Ferris said. He added that a single fireman with a hose could have put out the fire.
The business owner also said firefighters ignored him when he tried to explain the interior of the building.
City fire officials said firefighters could not extinguish the blaze quickly because there were high stacks of highly combustible materials inside the business. The fire department also blamed the lack of fire-blocking materials in the building's walls. The building was built before contemporary regulations on fire-blocking materials took effect.
According to the fire department's account of the incident, the stacks of highly combustible synthetic materials fueled the fire, causing heavy heat and smoke, which forced crews to leave the building. When firefighters reentered the building, they had to again retreat before tons of flaming debris cut off their exit. From that point on, the firefighters battled the blaze exclusively from outside of the building.
The Sub is currently trying to reopen. The business had hoped to reopen in time for Christmas, but it now does not expect to do so until 2017.
Company officials have requested that anyone who has photos or videos of the fire contact The Sub.
"Help us get the arsonists convicted!" The Sub posted on its Facebook page last month.