Firefighters watch fire burn Templeton home
December 14, 2016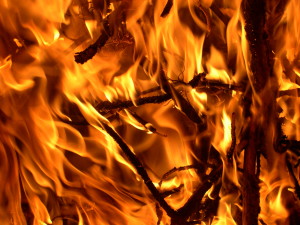 A fire destroyed a house in rural Templeton Tuesday night. Firefighters responded to the scene, but they did not try to save the home. [KSBY]
Fire crews let the structure burn prior to beginning to use water to extinguish the flames. Cal Fire said it did not have enough water sources to put up a fight.
The fire broke out at 8:50 p.m. at a house located off Highway 46 West just east of Vineyard Drive. The blaze was reported as a chimney fire. Cal Fire stated on Twitter that the fire was in the attic of the house.
A neighbor alerted a woman inside the home about the blaze. Multiple birds and a dog also safely escaped the home.
Cal Fire, as well as the Templeton and Cambria fire departments responded to the blaze.
Firefighters completed a sweep of the house to make sure no one was inside. Following the sweep, the roof began to collapse.
While waiting for the fire to die down, firefighters were making sure the blaze did not spread beyond the home. Fire crews reportedly saved an outbuilding and made sure the blaze did not engulf nearby oak trees.
Firefighters said they expected to remain on scene until 3 a.m. Wednesday and the house would burn to the ground.