Employee costs and pension liabilities accelerating in SLO
December 1, 2016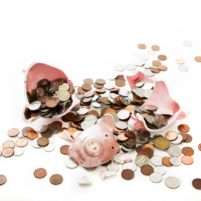 By JOSH FRIEDMAN
The city of San Luis Obispo's unfunded pension liabilities have risen to $126 million, more than the rest of the cities in SLO County combined.
After the bottom fell out of the housing market, the majority of cities in California tightened their budgets to work under reduced tax revenues while a few increased staffing and fees to residents, temporarily masking the growing debt. Over the past 10 years, while five SLO County cities eliminated staff positions, SLO and Morro Bay made significant increases in employee positions.
As of June 2015, when the most recent figures were released, San Luis Obispo has more than $126 million in unfunded liabilities, while the other six cities in the county have a combined total of less than $118 million.
SLO's pension liabilities total nearly $100 million more than Paso Robles, the city with the second highest total in the county. Grover Beach has both the lowest unfunded liabilities total, $9,134,117, and the lowest cost per resident, $694.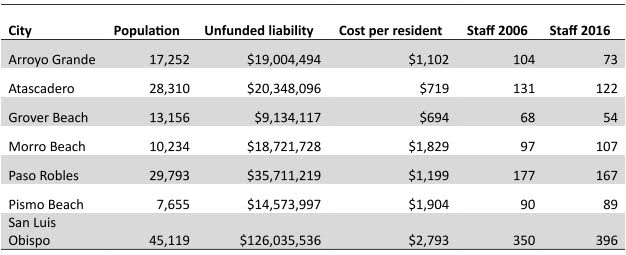 Over the past decade, while most SLO County cities have eliminated staff positions, Morro Bay added 10 more employees and SLO budgeted for an additional 47 full-time staffers.
Among the seven cities in the county, Arroyo Grande leads in the reduction of employees. In Nov. 2006, Arroyo Grande had 104 full-time employees, or 96 when excluding firefighters (Arroyo Grande is now part of the Five Cities Fire Authority). The city has since reduced its full-time staff to 73 employees.
"The city reduced staffing in response to the housing market crash," said Arroyo Grande Mayor Jim Hill. "As home values declined, the city has received less tax revenue."
On the other hand, San Luis Obispo currently is budgeted for 396 full time employees. In Nov. 2008, it had 350 employees for a similar number of residents.
The San Luis Obispo City Council's votes for increased services and programs have led to the increase in staffing, according to city management staff.
"Staffing levels over time have changed based on the council's adopted goals and objectives such as neighborhood wellness, proactive code enforcement, open space management, as well as increased activity in development review and increased investment in capital improvement," said Xenia Bradford, San Luis Obispo's interim finance director.
Every city in San Luis Obispo County participates in the California Public Employees' Retirement System (CalPERS). The cities' retirement accounts are funded by contributions from current employees and city general funds, as well as interest on the municipalities' accounts. During the past few years, CalPERS investment returns have been minimal.
And for the first time in the fund's history, benefits paid out to retirees exceeded the amount of contributions in a trend trustees expect to continue, according to a recent CalPERS report. It appears there are not enough workers for the current pension program to be sustainable.
A decade ago, there were two workers paying into the fund for each retiree receiving a payout. That number has now fallen to one and a third employee paying into the fund for each retiree drawing money out. In the meantime, employees' share of contributions to CalPERS has actually declined by almost 5 percent, while the share taxpayers are contributing has risen by more than 24 percent.
And while many cities have reduced employee positions, by raising its number of staffers, a city can reduce the percentage of unfunded pension liability by increasing current contribution amounts. Some analysts believe that move will lead to a financially unfeasible pension obligation in the future.
Compared to other California cities of its size, SLO tends to have a larger staff and more unfunded pension liabilities. SLO, which has a population of 45,119, has $126,035,536 in unfunded liabilities and currently 380 full-time workers.
Of the four closest cities in population to San Luis Obispo, Ceres, a Central Valley city of 45,117, appears to provide the closest comparison. Both Ceres and San Luis Obispo have their own fire and police departments and a similar number of housing units.
Ceres currently has 187 full-time employees and $13,266,900 in unfunded pension liabilities. However, Ceres uses a Stanislaus County pension system, which has recently earned higher investment returns than CalPERS.
In Riverside County, San Jacinto has 44,119 residents, 36 full-time employees and $8,848,764 in unfunded liabilities. The city of San Jacinto laid off multiple employees over the last five years, and in 2016, it produced its first balanced budget in three years. While San Jacinto has a city police department, it contracts with Riverside County for fire services.
The East Bay city of Dublin, which has a population of 46,036, has only 94 full-time employees and $10,915,217 in unfunded liabilities. Dublin outsources both police and fire services.
Though the census lists Palm Springs as having a similar population as San Luis Obispo, it has nearly twice the number of residential structures.
Because Palm Springs provides housing and services to many seasonal residents who are not included in the U.S. Census population totals, it is not comparable with SLO regarding city staff obligations. Even so, with a population of 44,552, 400 full-time employees and $132,459,431 in unfunded liabilities, its staffing and pension liability amounts closely resemble SLO.
San Luis Obispo management personnel said they are committed to paying off the city's unfunded liability over a 30-year period, as required by CalPERS. Since 2014, the city has allocated $2.7 million beyond its required CalPERS payments in an attempt to reduce SLO's unfunded liabilities.
Nonetheless, SLO's unfunded liabilities increased by more than $13 million from June 2014 to June 2015. Meanwhile, the percentage of funded pension liability decreased.
Assistant City Manager Derek Johnson said the city plans to continue to use city revenues to help cover the shortfall in its pension liability fund.
"The fall is a concern for all CalPERS agencies and as stated above does remain a city priority for the use of one-time funds to address this liability," Johnson said.
In the 2015/2016 fiscal year, CalPERS performed even worse, earning a return of just .6 percent on its investments. The poor performance will likely cause SLO's unfunded liabilities to rise again despite the city allotting funds to reduce its unfunded pension liabilities.
Paso Robles is the only local city, in addition to SLO, that has a funding ratio below 70 percent, a sign that a troubling amount of liability is accruing. The weighted average of Paso Robles' funding percentages is slightly above 68 percent, according to CalPERS.
SLO has a weighted average that is slightly below 65 percent. The other cities in the county have funding percentages that are in the low to mid 70s.
Steven Frates, a municipal finance analyst, previously told CalCoastNews anything below 70 percent is a matter of acute concern. But, anything below 80 percent is not good, either.
Due to rising unfunded liabilities coupled with the requirement to pay them off, SLO's minimum payment to CalPERS is increasing yearly. CalPERS projections from June 2015 estimated SLO's minimum payment in the 2016/2017 fiscal year would be $11.7 million and its minimum payment in the 2017/2018 fiscal year would be $12.3 million.
SLO officials say the introduction of second and third tier pension benefit systems are helping reduce costs. In recent years, new hires have joined pension plans with slightly smaller benefit packages than employees hired in the past.
However, a significant impact likely will not be realized in the near future. Current retirees are continuing to receive their pensions as initially structured, as will most current employees when they retire.
A new San Luis Obispo mayor and two new council members are set to be sworn next Friday. None of the incoming council members campaigned on platforms of fiscal reform. Thus far, Mayor-elect Heidi Harmon has not publicly discussed the city's pension liabilities.