Maldonado meets with Trump over ag secretary job
December 29, 2016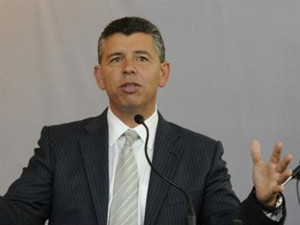 President-elect Donald Trump is considering appointing Santa Maria farmer and former California lieutenant governor Abel Maldonado as the United States secretary of agriculture.
Trump met with Maldonado on Wednesday at the president-elect's Mar-A-Lago estate in West Palm Beach, Florida. Another candidate for the job, Elsa Murano, also met with Trump on Wednesday. Murano is the former president of Texas A&M University, as well as a former agriculture undersecretary for food safety.
The president-elect is considering four candidates for the agriculture secretary position, according to the San Diego Union-Tribune. All three of Maldonado's challengers are reportedly Texans. Trump may be seeking an Hispanic to fill the position since he has faced criticism over a lack of diversity in his proposed cabinet.
Agriculture secretary is one of the few cabinet positions for which Trump has yet to make his selection. The agriculture secretary oversees the federal Food Safety and Inspection Service, as well as the food stamp program and the United States Forest Service.
Maldonado, who owns a family farming business, launched his political career by joining the Santa Maria City Council. After serving as Santa Maria's mayor, he spent more than a decade in Sacramento, serving as an assemblyman, state senator and lastly lieutenant governor.
Then-govenor Arnold Schwarzenegger appointed Maldonado lieutenant governor after the Central Coast politician reached a late night deal to vote for a budget with tax increases in exchange for the creation of California's open primary system. The open primary system has been unpopular among California Republicans.
In 2010, Maldonado ran for lieutenant governor and lost. He then ran for Congress in 2012 and lost to Rep. Lois Capps. Maldonado filed papers to explore a run for governor in 2014, but he promptly called off his campaign.
Andy Caldwell, the executive director of the Coalition of Labor, Agriculture and Business, and Santa Barbara County Supervisor Peter Adam are backing Maldonado's bid for agriculture secretary.