Santa Maria chief admits to fabricating news, local press angry
December 2, 2016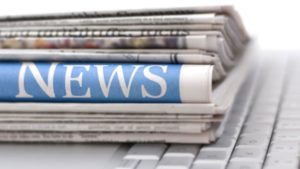 Santa Maria Police Chief Ralph Martin has admitted to fabricating a story about two Guadalupe men being arrested for identity theft, a tale local media subsequently reported. Martin said he made up the story in order to save the lives of the Guadalupe men who were murder targets of local MS-13 gangsters.
Local media that reported the false story, which Martin circulated in a press release, have reacted angrily to the revelation that the events never occurred. Martin, though, is defending his actions, saying they were morally and legally justified and that, in addition to saving lives, they helped police arrest MS-13 members.
This February, Santa Maria police were engaged in an operation targeting MS-13 members who were allegedly engaged in an ongoing murder spree. During the operation, investigators learned the local branch of MS-13 had put hits on rival gang members Jose Santos Melendez, 22, and Jose Marino Melendez, 23.
Martin then ordered his department to issue a press release saying officers had arrested the Guadalupe men on identity theft charges and had turned them over to ICE. Rather than arresting the men and setting them up for deportation, police actually put them in protective custody.
The following month, authorities conducted a multi-state sting in which they arrested more than 15 foreign nationals from Honduras and El Salvador who are accused of carrying out the Santa Maria murder spree.
Recently, the Santa Maria Sun discovered the story about the identity theft arrests had been fabricated. The Sun then contacted local media that had reported the fabricated news. That prompted Martin to come clean about the story.
In response to the revelation, KSBY issued the following statement:
"KSBY News is deeply troubled by the Santa Maria Police Department's use of a fake press release to mislead the local news media and our community. While we strongly support the police department's efforts to protect citizens in harm's way, we are concerned this type of deception can erode the basic trust of our residents and viewers."
The Santa Maria incident is not the first time a local law enforcement agency issued false information in a press release. Yet, local media are reacting much differently than they did on a previous occasion when law enforcement circulated false information, not to save lives, but presumably to cover for a department's earlier false statements and possible embarrassment to another law enforcement agency.
In 2010, CalCoastNews correspondent Dan Blackburn reported that the Dystiny Myers killers had been caught on a surveillance video beating the 15-year-old victim at a Pismo Beach gas station prior to setting her body on fire in Santa Margarita. Two Pismo Beach police officers were standing nearby, talking and drinking coffee during the now-convicted murderers' pit stop in South County.
Following Blackburn's report, the San Luis Obispo County Sheriff's Office issued a press release saying none of what Blackburn reported about the video was correct. Both the Tribune and KSBY reported the sheriff's falsified story and even chastised Blackburn for writing untrue news.
The video was later played during the Myers murder trial, completely corroborating Blackburn's detailed report and exposing the department's lie.
Nonetheless, neither KSBY nor the Tribune issued corrections when the surveillance video surfaced in court even though local radio host David Congalton demanded they write a retraction and make an apology to Blackburn.