Atascadero man dies after body surfing in Morro Bay
January 22, 2017
An Atascadero man who was body surfing in Morro Bay on Saturday died after being pulled from the water.
At about 10:30 a.m., John Robbie Ross, 65, was body surfing in the heavy surf when the waves pulled him under. Onlookers watched as he struggle and then disappeared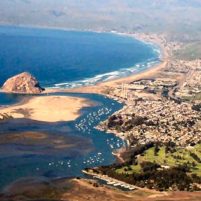 from their view. His body was later discovered floating in the surf.
Rescuers pulled Ross from the water near Morro Rock and attempted to revive him. He was transported to Sierra Vista Regional Medical Center where he was pronounced dead at 1:20 p.m.
Safety officials are warning the public that with swells of up to 28 feet, the ocean is "extremely dangerous and can be deadly."