Cayucos's own Hatfields and McCoys
January 17, 2017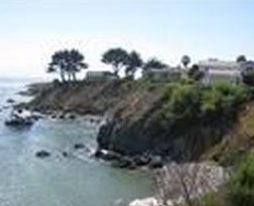 By KAREN VELIE
For almost a decade, Cayucos neighbors John Black and Dr. Marshall Lewis have feuded over fence lines, views and property rights. A battle that now includes felony charges against Black, 72, who is reportedly dying from cancer.
On Oct. 3, 2016, Black allegedly brandished a gun while threatening to kill construction workers on Lewis's property over an already adjudicated concrete wall.
"Black appeared very angry and said something to the effect of, 'See what I have? I can kill all of you motherfuckers! I have two months to live and this can be your last day,' " according to a San Luis Obispo County Sheriff Department incident report.
Problems between the neighbors began in 2010 after Lewis announced plans to tear down a funky home and antique shop at the north end of Lucerne Road and replace it with a larger more modern, two-story home.
In October 2010, Lewis filed a lawsuit against Black alleging trespassing and wrongful construction of a concrete curb wall that Black had built on Lewis's property.
"When I filed my suit many years ago, Black told that judge he had three months to live," Lewis said. "He has been terminal for years. It is nonsense."
At that time, Lewis put in security cameras, a chain link fence around his property and a sign on his front door that read, "Asshole's neighbor."
During a 2011 San Luis Obispo County Board of Supervisors meeting, Black spoke out against the modern style home Lewis planned to construct, claiming it was out of character for the neighborhood. Nevertheless, the board voted to allow Lewis to move forward with his plans.
Black then appealed the project to the California Coastal Commission. Shortly afterwards, Lewis decided to revamp the existing home in order to end the ongoing battle, Lewis said.
In April 2016, San Luis Obispo County Superior Court Judge Barry La Barbera ruled in favor of Lewis regarding the placement of the concrete wall. Lewis then hired workers to move the wall.
On Oct. 3, 2016, deputies questioned Black after construction workers hired to move the wall told deputies Black had threatened to kill them while brandishing a gun.
Black originally denied making any threats but then told the deputy, "I can take one out or all of them for the same price," according to the incident report.
The deputy asked Black to clarify what he meant by that statement.
"I believed that he was saying that he could kill one of them or all of them and it would be the same punishment," the deputy wrote in the incident report.
After the deputies placed Black under arrest, John Black's wife Glenda Black told the officers they were making a mistake, they were relatives of Commander Taylor, and she was going to call him to try to stop the arrest, according to the incident report.
Last week, Black's attorney Ilan Funke-Bilu filed a motion asking the court to dismiss the criminal charges against Black because his doctor said he only has months to live. Black has "widespread metastatic kidney cancer involving his left hip, cervical, thoracic and lumbar spine as well as his lungs," according to the motion to dismiss.
Nevertheless, Lewis wants the case to move forward.
"Threatening to kill people is not acceptable," Lewis said. "He can have his cancer treated in jail. Let a guy like that loose and he is going to kill someone."
According to the motion to dismiss, the district attorney's ongoing prosecution of Black is harming his health.
"It is a violation of the Due Process Clause, fair play and substantial justice to allow the district attorney to continue facilitating the death of John Black," the motion to dismiss says.
Typically, when a defendant has a terminal illness, the case is continued for several months rather than dismissed, District Attorney Dan Dow said. Dow noted that threatening to kill someone is a serious crime.
"The evidence in this case shows that the defendant used the very fact he was terminally ill as a reason he could kill the victims in this case without consequence by saying while brandishing a firearm, "See what I have? I can kill all of you motherfuckers! I have two months to live and this can be your last day," Dow said.
On Jan. 11, Black, who is charged with three felony counts of threatening to commit violence and a misdemeanor charge of brandishing a deadly weapon, was placed on hospice, Funke-Bilu said.
A hearing on the motion to dismiss is scheduled for Feb. 8.