Grover Beach elementary school hit with profane graffiti
January 18, 2017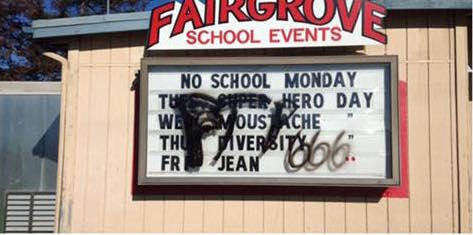 Vandals sprayed graffiti on a Grover Beach elementary school campus twice in a period of three days last week. The graffiti contained messages like "smoke weed everyday" and "fuck the pig," as well as numerous images of the number 666.
The first batch of graffiti appeared Wednesday night. When students arrived at school Thursday morning, the graffiti was still visible.
Vandals returned Friday and spray painted the second batch. Lucia Mar school district workers reportedly removed the graffiti before students returned to school Tuesday following the holiday weekend.
Over the weekend, a post containing a compilation of photos of the graffiti was shared numerous times on Facebook.
"Ok everyone we need your help!!" South County resident Crystal Sanders wrote in the post. "Fairgrove was vandalized twice this week. First on Wednesday and again last night. It's heartbreaking that the kids had to walk into school Thursday morning and see this! These punks need to be found!! Please share this!"
Grover Beach police have yet to catch the vandals.