Is 'Hollyweed' sign guy a former SLO pot deliveryman?
January 11, 2017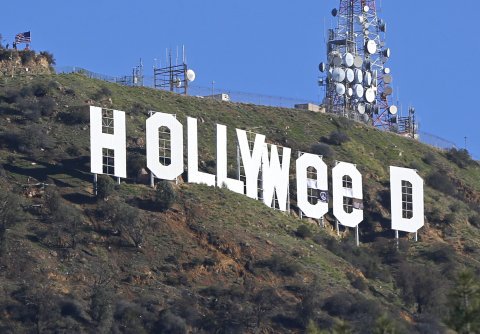 A couple days after altering the iconic Hollywood sign to read "Hollyweed" in a New Year's prank, Southern Californian artist Zach Fernandez came of of hiding and laid claim to the feat. It turns out Fernandez is a former resident of the Central Coast, and in a Vice interview, the pro-marijuana artist alluded to once operating a medical cannabis delivery service in San Luis Obispo.
Early in the morning on New Year's Day, Fernandez climbed up to the Hollywood sign, scaled the sign's ladders and hung tarp to alter its letters. Fernandez has since been arrested and charged with misdemeanor trespassing.
In the Vice interview, which was published on Jan. 3, Fernandez said he carried out the prank to pay homage to Danny Finegood, a then-Cal State Northridge art student, who in 1976, created the original "Hollyweed" sign. Fernandez also said his intention was to generate conversation about marijuana.
"I'm very proactive about marijuana. The first time I smoked, I was like 12, and my sister and her boyfriend brought out a bong and got me super high, Fernandez stated in the Vice interview.
Then we had our own medical marijuana delivery service in San Luis Obispo for two years, but we got out of the business. Still, the medical results are clear for people with MS, cancer."
KSBY reported Fernandez had attended school in Arroyo Grande.
Fernandez refers to himself by the artist name of "Jesus Hands." He wrote Jesus Hands beside a heart on a tarp he placed on of the Hollywood sign's "O"s.
The artist's ex-wife and creative partner, Sarah Fern, collaborated on the project. Fern said she helped with mapping, measuring and constructing the tarps Fernandez used.
After laying claim to the prank, Fernandez voluntarily surrendered to LAPD detectives with his attorney at his side. He was booked and released after being arrested.
Following the arrest, Los Angeles City Councilman David Ryu, whose district includes the Hollywood Hills, said he urged LAPD and the city attorney to investigate and prosecute the case.
"Pranks of this nature deplete the resources of our valuable public safety personnel, in both responding to the prank and in responding to the increased crowds and copycat attempts that these incidents generate," Ryu said in a statement.
Fernandez is scheduled to appear in downtown Los Angeles court on Feb. 15. He says he has similar projects planned for the future.