Peschong and Nipomo win amid contentious supervisor meeting
January 11, 2017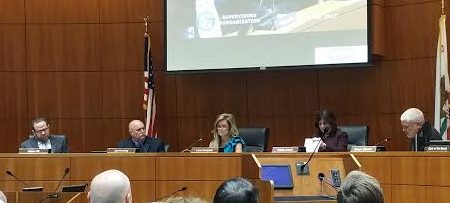 By KAREN VELIE
At a particularly ugly and contentious San Luis Obispo County Board of Supervisors meeting on Tuesday, the board voted to award the chairmanship to John Peschong and to move forward on plans to build a sheriff substation in Nipomo. Supporters and opponents of the new political majority packed the board chambers.
For more than a week, the SLO Progressives rallied their members to speak out at the meeting in support of Supervisor Adam Hill getting the chairmanship. The group claims supervisors John Peschong, Debbie Arnold and Lynn Compton are members of the Tea Party who are threatening the democratic process. A claim Peschong, Arnold and Compton contend is baseless political rhetoric.
"Hill is next in line for the traditionally rotational position, but the new Tea Party Republican majority is threatening to upend tradition and civility, and install one of their own as chair instead," the SLO Progressive leadership said in a Jan. 8 email. "The chair has control over public comment on important issues like the Phillips 66 oil trains project."
Those opposed to Hill's leadership complained that he has been disrespectful to other board members and public speakers. In addition, several people including Stew Jenkins questioned his self-serving ties with developers.
"A man or woman whose vote is up for sale is neither a conservative, a moderate, a liberal or a progressive. Such an individual is simply corrupt," Jenkins, a Democrat, said. "Putting such an individual in charge of what-and-when measures reach your board and in charge of deliberations, will put you, the staff and the citizens of our county at the whims of that person's burning consumption."
While most of the public speakers were composed during their comments, several board members raised voices and traded barbs.
Noting that a chair should treat all members of the board and public respectfully, Supervisor Arnold made a motion to make Peschong the chair and Hill the vice chair.
Gibson said Arnold had questioned the rotation three years in a row and that he opposed her motion. Gibson then blamed Arnold for the lack of collegiality on the board.
Peschong spoke briefly saying he would work respectively with all five members of the board and the public if selected as chair.
"I will not discount minority voices on this board," he said. "That is my pledge to you, and that is my pledge to this board."
Hill argued that the board should follow the traditional rotation. Hill then joined Gibson and blamed Arnold for the lack of civility among board members.
"This has been an difficult situation not just for the board, but a difficult situation for the public and an extremely difficult situation for staff," Hill said. "Why are we spending so much time to stick it to someone?"
Hill also castigated Arnold claiming she was working at the behest of the Coalition of Labor Agriculture and Business (COLAB) to keep him out of chair position.
After Hill finish speaking, COLAB's Mike Brown approached the speaker's podium asking for a point of order so that he could respond to Hill's comments.
"Hill castigated COLAB, we should have a chance to respond," Brown said.
A sheriff deputy then approached Brown and escorted him out of the meeting.
"I can't allow you to voice your opinion," the officer said.
Outside the board chambers, Brown told the deputy that he was out of line and that his request to respond to Hill's attack was permitted under the rules of parliamentary procedure. The deputy then let Brown return to the meeting.
Supervisors Arnold, Peschong and Compton then voted to make Peschong chair with Hill and Gibson dissenting.
In what appeared to be an attempt to punish Compton for her vote against making Hill chairman, Gibson then asked to take the approval of an agreement to build a substation in Nipomo off of the consent agenda.
Compton has worked for more than a year towards having a new sheriff substation in her district.
Approved in 2002, the Trilogy housing development includes four stages. Before the builder can move ahead with phase two, a sheriff's substation is required. In the proposed agreement, the developer, Monarch Dunes LLC, will pay $594,000 toward a future substation in the Nipomo area.
Gibson and Hill said that the developer should pay for the entire cost of the sheriff's substation.
Compton argued that public facility fee funds dedicated to her district had been snagged by both Gibson and Hill.
Developers in San Luis Obispo County are required to pay public facility fees (PFF) before they can get development permits. These fees are dedicated for public facilities and parks that support the residence in the area of the development, according to county records.
However, estimates are that approximately $10 million in PFF funds related to developments in Nipomo, have been spent in Gibson and Hill's districts.
"Don't change the subject," Gibson said to Compton's mention of the diverted PFF funds.
Compton argued that the 2002 agreement does not require the developer to pay any monies towards a substation and that this is a good deal for Nipomo and the county.
"This is something Nipomo needs," Compton said. "We had money diverted, so don't mess with this."
After the heated exchange between Gibson and Compton, Hill joined in claiming Compton was compromised because she had shared a meal with the developer.
Compton said she had met with the developer over a hamburger, which she said she purchased, to discuss the biggest project in the county.
Both Hill and Gibson argued that Compton was lobbying for the developer and appeared to be in his pocket.
After a contentious argument, Compton, Arnold and Peschong voted in favor of the sheriff's substation agreement with Hill and Gibson dissenting.