8 Valentine's Day recipes from Spencer's Fresh Markets
February 8, 2017
Love is in the air with the following romantic dinner and dessert recipes from Spencer's Fresh Markets in Morro Bay and Santa Maria.
Nutella and Strawberry Stuffed French Toast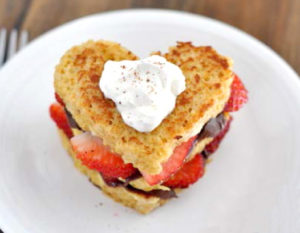 Ingredients:
3 large eggs
2/3 cup milk
1/4 teaspoon vanilla
pinch of nutmeg
8-12 thick slices bread
1/2 cup Nutella (more or less)
8-10 strawberries, stemmed and sliced
1/2 cup heavy whipping cream
Powdered sugar to taste
Directions:
In a shallow pie plate or dish, whisk together milk, eggs, vanilla and nutmeg until well-combined. Using a heart-shaped cookie cutter or a sharp paring knife (free hand the heart shape, which is what I did), cut a heart out of each piece of bread. Save the crusts and excess bread for homemade bread crumbs – just toss in a Ziploc bag and put them in the freezer.
Heat a nonstick griddle or skillet over medium heat (add a bit of butter if your skillet is prone to sticking). Dip each piece of heart-shaped bread into the egg/milk picture so the liquid soaks into the bread. Cook the bread for two to three minutes on each side until golden. Remove to a plate and repeat the process until all the bread is cooked. Whip the cream and powdered sugar (to taste, 1/2 tablespoon or so) until stiff peaks form.
Spread a healthy amount of Nutella on one slice of cooked bread. Top with sliced strawberries. Spread Nutella on another slice of bread and place the bread Nutella side up on top of the strawberries. Top with another layer of sliced strawberries and a final piece of French toast. Dollop a bit of whipped cream on top and sprinkle with a bit of grated nutmeg, if desired. Serve immediately. Serves four.
…Love Toast…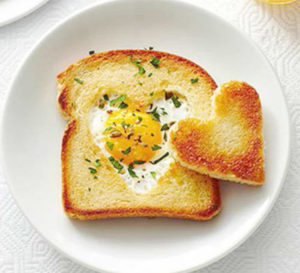 Ingredients:
4 tsp. mayonnaise
2 slice white sandwich bread
1 tbsp. butter
2 large eggs
salt
Pepper
Finely chopped capers
Finely chopped fresh herbs
Directions:
Spread mayonnaise on both sides of two slices white sandwich bread. With medium heart-shaped cookie cutter, cut centers from bread. In 12-inch nonstick skillet, melt butter on medium. Add bread (and centers) to skillet. Cook five minutes or until golden brown. Turn bread over. To each heart-shaped hole, add one large egg; sprinkle eggs with pinch of salt and pepper. Reduce heat to medium-low. Cook five to seven minutes, or until whites are set. Sprinkle with finely chopped capers and herbs (such as parsley, chives or basil) if desired.
Dinner for Two: Engagement Pasta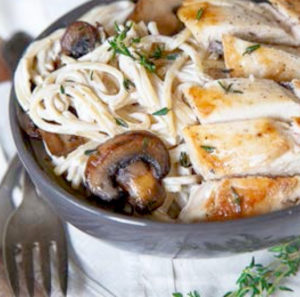 Ingredients:
6 oz. dried spaghetti
4 tbsp. unsalted butter
10 sprigs fresh thyme
10 oz. sliced mushrooms
freshly ground black pepper
salt
2 small chicken breasts
2 tsp. olive oil
1/2 cup dry white wine
4 oz. cream cheese, softened
Directions:
Bring a large pot of salted water to a boil, and cook the spaghetti noodles.
Meanwhile, in a large not non-stick skillet, melt the butter and thyme over medium heat.
Add sliced mushrooms to the skillet, and stir to coat in butter. Leave them to cook for a few minutes undisturbed so that a nice crust forms. Stir, and repeat until the mushrooms are golden brown. It will take about 15 min.
Using a slotted spoon, remove the mushrooms from the pan, leaving the butter and thyme in the pan. Add the oil to the pan.
Salt and pepper both sides of the chicken breasts.
Turn the heat up to medium-high, and sear the chicken breasts on both sides in the same pan that the mushrooms were in. Again, let cook undisturbed so that a nice crust forms. If the chicken is sticking to the pan, it's because the first side isn't done searing. It will release when it's golden brown.
Remove the chicken from the pan, and cover to keep warm.
Turn the heat down to low and add all of the wine
Allow wine to cook down slightly while scraping the bottom of the pan with a wooden spoon to get all of the brown bits into the wine.
Dice the cream cheese and place in a large bowl.
Discard the thyme sprigs from the pan, and then pour the hot wine over the cream cheese, and stir until it melts. There might be a few small pieces, but the hot pasta will dissolve them.
When the pasta is done, drain it, and immediately pour it over the wine-cream cheese mixture. Toss the noodles to melt and evenly distribute cream cheese sauce.
Stir the mushrooms into the pasta bowl. Slice the chicken, and serve on top.
This pasta is best served immediately after making it. The cream cheese will set up if allowed to set. Not that you can't re-heat it, but it will be thick. Plan accordingly.
Creamy Garlic Scallop Spaghetti with Bacon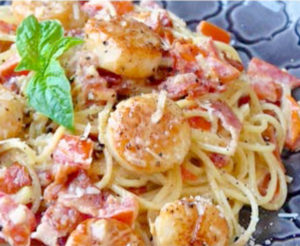 Creamy Garlic Scallop Spaghetti with Bacon – ready in well under 30 minutes, this in one quick and easy meal that's sure to impress. It easily adapts to serve just two as well, making it an ideal choice for a romantic dinner for Valentine's Day or at any time of the year you want to pamper your sweetheart.
Ingredients:
3/4 pound dry spaghetti
4 slices crisp cooked bacon, chopped
1 pound medium sized scallops
Salt and pepper to season
3 tablespoons olive oil
6 cloves minced garlic
1/2 cup white wine
1 cup low sodium seafood stock (or chicken stock)
1 1/2 cups whipping cream
2 large tomatoes, center pulp removed and diced small.
½ cup grated Parmesan cheese
Directions:
Cook the dry spaghetti to al dente in salted water and drain.
Crisp cook the bacon in a large sauté pan and roughly chop it. Set aside.
Season the scallops with salt and pepper and pan sear them in the bacon fat for only about one and a half to two minutes per side and set aside with the bacon.
Drain the bacon fat from the pan and add the olive oil and garlic; cook for only a minute to slightly soften the garlic.
Add the white wine and seafood stock and simmer quickly for a few minutes until the liquid has reduced by about 1/3. Add the cream and simmer for an additional two minutes.
Season with salt and pepper if needed, then add the bacon, tomatoes and the scallops to the sauce. Simmer for only a minute or two to warm the scallops through before adding the cooked pasta and Parmesan cheese.
Toss together the pasta and sauce very well before serving. Serves four.
Chocolate Chip Red Velvet Whoopi Pies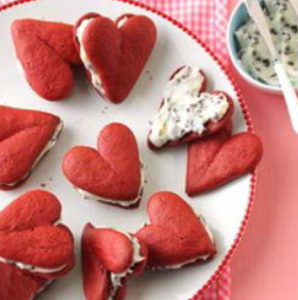 Ingredients:
1 pkg. red velvet cake mix (regular size)
3 large eggs
1/2 cup canola oil
2 teaspoons vanilla extract
Filling:
8 ounces cream cheese, softened
1/2 cup butter, softened
2 cups confectioners' sugar
1 cup (6 ounces) miniature semisweet chocolate chips
Directions:
Preheat oven to 350 degrees. In a large bowl, combine cake mix, eggs, oil and extract; beat on low speed 30 seconds. Beat on medium two minutes.
Cut a 1/2-inch hole in the tip of a pastry bag or in a corner of a food-safe plastic bag. Transfer dough to bag. Pipe 1-1/2×1-in. hearts onto parchment paper-lined baking sheets, spacing hearts 1 in. apart.
Bake six to eight minutes or until edges are set. Cool on pans two minutes. Remove to wire racks to cool completely.
For filling, in a large bowl, beat cream cheese and butter until blended. Gradually beat in confectioners' sugar until smooth. Stir in chocolate chips. Spread filling on bottoms of half of the cookies. Top with remaining cookies. Refrigerate leftovers.
Molten Chocolate Lava Cakes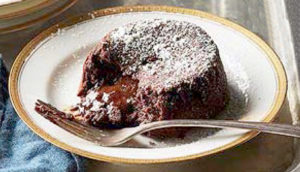 Top these gooey-center, intense chocolate desserts with powdered sugar.
Ingredients:
2 tablespoons butter
8 ounces bittersweet chocolate, coarsely chopped
3/4 cup butter
3 eggs
3 egg yolks
1/3 cup granulated sugar
1 teaspoon vanilla
1 tablespoon all-purpose flour
Powdered sugar
Directions:
Using the 2 tablespoons butter, grease six 8 to 10 ounce ramekins, soufflé dishes or custard cups. Place ramekins in a 15x10x1-inch baking pan; set aside.
In a heavy small saucepan, combine chocolate and the 3/4 cup butter. Cook and stir over low heat until chocolate melts. Remove pan from heat; set aside.
In a large mixing bowl, beat eggs, egg yolks, granulated sugar and vanilla with an electric mixer on high speed for eight to ten min. or until thick and lemon colored. Fold one-third of the chocolate mixture into egg mixture. Fold remaining chocolate mixture and flour into egg mixture. Spoon about 2/3 cup batter into each prepared ramekin, dividing evenly.
Bake in a 425 degree oven about 12 minutes or until cake edges feel firm. Cool in ramekins on a wire rack for two to three minutes. Using a knife, loosen cake from sides of ramekins. Invert onto dessert plates. Sift with powdered sugar. Garnish with fresh raspberries and mint leaves if desired. Serve immediately.
Raspberry-White Choc Cheesecake Bars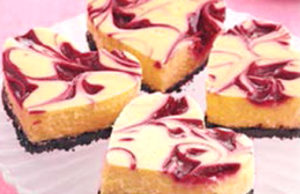 Ingredients:
1 9-oz. box chocolate wafer cookies or choc graham crackers
5 tbsp. unsalted butter, melted
1 cup frozen raspberries, thawed
1/4 cup plus 2 Tbsp. sugar
2 8-oz. pkg. cream cheese, room temperature
2 large eggs plus 2 large yolks
1 tbsp. all-purpose flour
1 tsp. vanilla extract
4 oz. white chocolate, melted & cooled
Directions:
Preheat oven to 350 degrees. In a food processor, blend wafer cookies until completely crushed. Transfer to a bowl, pour in melted butter and mix until crumbs are evenly moistened. Pour crumbs into a 9-inch square baking pan, and use your fingers to press into an even layer over bottom and about 1/2 inch up sides of pan. Bake for eight minutes, until firm. Transfer to a wire rack and let cool completely. Reduce oven temperature to 250 degrees.
Combine raspberries and 1 Tbsp. sugar in a food processor and blend until smooth. Strain through a fine-mesh sieve into a bowl; discard solids. Using an electric mixer at medium speed, beat cream cheese and remaining 1/4 cup plus 1 Tbsp. sugar until smooth. Add eggs and yolks one at a time, beating briefly after each addition. Add flour and vanilla and mix just until combined. Fold in white chocolate.
Pour cheesecake mixture over cooled crust, spreading evenly. Drop spoonfuls of raspberry puree on top and, using a toothpick, drag raspberry puree through cheesecake to create a marbled effect, taking care not to drag in crust. Bake until edges are pale golden and cheesecake is just set in center, one hour and 15 to 20 minutes. Let cool completely on a wire rack, then cover and refrigerate until fully chilled, at least two hours. Cut and serve
Kir and Kir Royale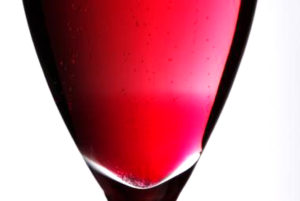 The Kir is one of the few cocktails that uses the black currant liqueur called crème de cassis, which acts as a dark sweetener for your favorite wine.
The choice of white wine is something of personal taste; dry wines are preferred, Chablis is a great option. This is also a great use for wines that are, shall we say, not perfect on their own and could use a little help to make a decent drink.
Ingredients:
1/4 ounce crème de cassis
2 1/4 ounces dry white wine
Directions:
Pour the crème de cassis into a wine glass. Slowly add the dry white wine.
Variations of the Kir Cocktail
• Cardinal: Substitute red wine for the white wine.
• Kir Breton: Substitute Breton cider for the wine.
• Kir Imperial: Substitute raspberry liqueur for the crème de cassis and Champagne for the wine.
• Kir Normand: Substitute Normandy cider for the wine.
• Kir Royale: Substitute Champagne for the white wine, serve in a Champagne flute