Popular Pismo Beach campground closed for most of winter
February 28, 2017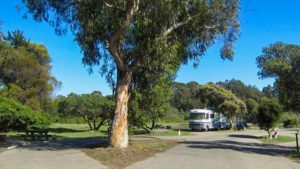 As with Morro Bay State Park, Pismo State Beach's North Beach Campground is losing thousands of dollars in revenue as a result of the flurry of storms this winter. [KSBY]
The North Beach Campground has been closed to visitors since Jan. 4, and workers have yet to begin the cleanup of the popular camping location. State parks officials say they are assessing the damage to the campground daily and waiting for the weather to cooperate in order to begin the cleanup.
During recent storms, trees fell down at the South County campground and buildings sustained water damage. The downed trees have caused issues for state parks workers and PG&E.
Prior to closing, the North Beach Campground generated $3,525 in revenue in early January. The campground has not generated any revenue in February.
Last year, the North Beach Campground generated $30,150 in revenue in January and brought $48,700 in February.
Dena Bellman, a park and recreation specialist for state parks' Oceano Dunes District, said the decline in revenue is something expected, as there is a yearly ebb and flow due to the weather. Additionally, the North Beach Campground is so prone to flooding that officials do not allow reservations at this time of year, Bellman said.
Morro Bay State Park, which has been closed since President's Day Weekend, has lost about $36,000 in revenue due to canceled reservations. Workers are currently cleaning up Morro Bay State Park, and its campgrounds are tentatively scheduled to reopen on March 8.