SLO County supervisors clash over parks, roads and Del Campo
February 22, 2017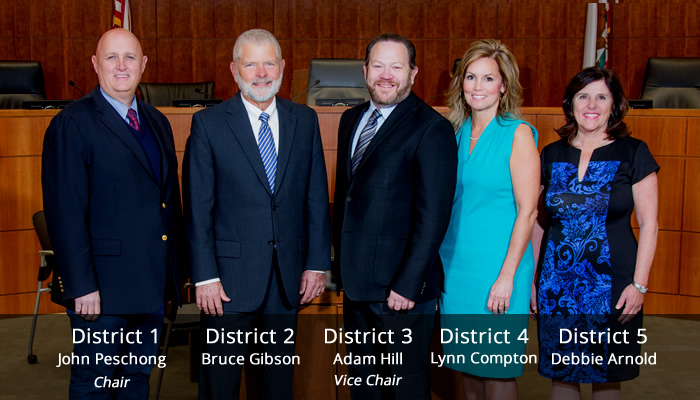 At another testy San Luis Obispo County Board of Supervisors meeting, Supervisor Lynn Compton won approval for four Nipomo park projects and Supervisors Debbie Arnold managed to get the county to make road maintenance one of its budget priorities. Additionally, the board appointed former KPRL radio host Dan Del Campo as Supervisor John Peschong's planning commissioner.
During a hearing on the county's five-year plan for capital improvement projects, Compton criticized the county for redirecting in-lieu fees required to be spent for the benefit of the residents of Nipomo. Part of the in-lieu fees raised from developments in Compton's district went toward a bridge in Supervisor Bruce Gibson's district and a bike path in District 3, which Supervisor Adam Hill represents.
Over a 10-year period, the South County generated $10.8 million in fees, while only $2 million was spent in the area, Compton said. Compton called for adding the construction of Jack Ready Imagination Park and Jim O. Miller Park to county's infrastructure spending priorities. Compton likewise called for additions to Nipomo Community Park and Dana Adobe to be added to the spending list.
Gibson and Hill objected to Compton's requests, but the board ultimately voted unanimously to approve the infrastructure plan with the South County park projects included. Approval of the plan, though, does not guarantee the county will spend money on the projects.
Arnold's initiative to add road maintenance to the county's budget priorities passed on a 3-2 vote with Gibson and Hill dissenting. Arnold has long been calling for the county to prioritized spending on roads.
Hill, who has previously clashed with Arnold over the issue, again argued the homeless are a major priority. Hill also said a drug detox center for the county jail and climate change adaptation ought to be spending priorities.
On a 4-1 vote, with Hill dissenting, the board of supervisors appointed Del Campo to the planning commission. Del Campo, a staunch conservative, recently left KPRL after six years of broadcasting at the North County radio station.
Hill said Del Campo does not belong on the planning commission because of the views he expressed on the radio, particularly pertaining to environmental issues. Peschong nominated Del Campo due in large part to his beliefs in smaller government and more personal freedom.