Thousands of Santa Maria students skip class to protest Trump
February 17, 2017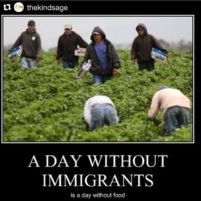 More than 7,000 students were missing from Santa Maria elementary schools on Thursday while walkouts, strikes and business closures took place nationwide as part of the "Day Without Immigrants" — a protest against President Donald Trump's immigration policies. In San Luis Obispo County, three downtown SLO restaurants shut their doors and students demonstrated at Paso Robles High School.
Santa Maria-Bonita School District administrators marked 7,302 students absent from 20 elementary schools. As a result, the district will lose nearly $400,000 in state funding. [KSBY]
In the Santa Maria Joint Union High School District, 22 percent of students were absent on Thursday. The district includes Santa Maria, Pioneer Valley, Righetti and Delta high schools. The high school district expects to lose about $100,000.
Jennifer Lopez, a Santa Maria High School junior, said, "We all come from undocumented families, and we are not going to school."
In Guadalupe, 38 percent of students were absent from Mary Buren Elementary School, and 23 percent of students were absent from Kermit McKenzie Junior High.
Numerous businesses in the Santa Maria area closed on Thursday.
Three downtown San Luis Obispo restaurants — Big Sky Cafe, Novo and Luna Red — kept their doors shut. Big Sky Cafe announced Wednesday it would be participating in the day without immigrants. On Thursday, the owners of Novo and Luna Red released a statement saying their restaurants would be closed as well.
"We are a nation of immigrants. Restaurants are an industry of immigrants. Farm fresh food is not possible without the hard work of our farm labor workforce; locally sourced cuisine is not possible without the hands to craft it. In solidarity with a "day without immigrants" we have closed our businesses, @luna_red and @novorestaurant because they would not be possible without the declaration of the people who first grow the food and our teams who prepare it," the statement said.
At Paso Robles High School, dozens of students protested during their lunch break. Video shows students chanting, "bridges not walls."