3 men arrested for human trafficking in Ventura
March 26, 2017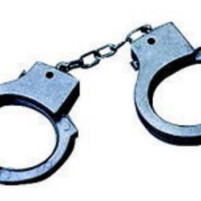 Ventura Police arrested three men Saturday on charges of human trafficking, police said.
In response to a call to the National Human Trafficking Center hotline, officers headed to the area of Victoria Avenue and Victoria Road and found a 17-year-old girl hiding near a hotel. The teen told police she had been forced into prostitution in San Diego then brought to the Central Coast.
Three men had allegedly threatened the teen to make sure she followed their demands. The three men then checked into the La Quinta Inn on Valentine Road with two other females, the teen told officers.
Officers transported the teen to a safe house.
After the three male suspects left the hotel in a car, officers made a enforcement stop that led to the arrest of Brian Kattrel Lewis, 21, Dashawn Marquese Jackson, 18, and Dameon Rasheed Howard, 20.
Police booked the suspects into the Ventura County Main Jail on felony human trafficking and conspiracy charges. Lewis is also facing a weapons charge because of a gun found in the car.
Anyone with information about this crime is asked to contact the Ventura Police Department at (805) 339-4465. An anonymous tip can be made by calling Crime Stoppers at (800) 222-TIPS.