Parolee flees Atascadero police and CHP at nearly 130 mph
March 15, 2017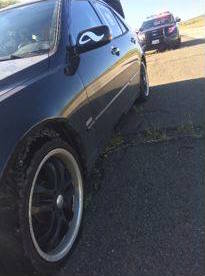 Officers chased a parolee on Highway 101 Wednesday morning from Atascadero to well into Monterey County. The chase reached speeds of nearly 130 mph.
At about 8:26 a.m., an Atascadero officer tried to conduct a traffic stop on a vehicle that was traveling at an unsafe speed on El Camino Real. The car did not yield, and a pursuit began, according to the Atascadero Police Department.
Atascadero officers followed the car north on Highway 101 with assistance from the CHP both on the highway and in the air.
CHP officers deployed a spike strip that brought the chase to an end just south of King City. The chase covered 53 miles and lasted 31 minutes.
Officers arrested the driver, Jeffrey Branes, 37, and charged him with felony evading an officer and having a parole warrant. A passenger, 39-year-old Crystalynn Burgess, was also arrested and charged with violating probation.