SLO police seeking another counterfeiter
March 29, 2017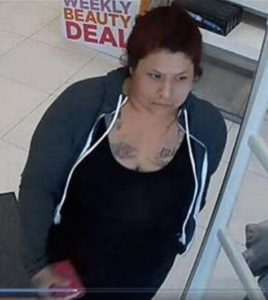 In what appears to be part of a trend, a woman tried to spend a counterfeit $50 bill at a San Luis Obispo beauty store on Friday. The woman did not succeed in making the purchase, but she did managed to run away, according to the San Luis Obispo Police Department.
Around 4:30 p.m., an employee at Ulta Beauty on Madonna Road called police to say a woman tried to pay with counterfeit cash. The employee recognized the bill was fake when it failed the ink pen test, a SLOPD news release states.
Police describe the suspect as a Hispanic woman in her mid to late 20s. The suspect is about 5 feet 4 inches tall with a medium build and brownish red hair and brown eyes. She has tattoos on her neck and chest.
Officers say they have seen an increase in the number of counterfeit bills being passed in recent months.
On March 9, a man and a woman tried to spend counterfeit $100 bills at two separate downtown stores around the same time. Both suspects were caught on surveillance footage, but they fled and managed to evade capture.
A week prior, a man was caught on camera in an Atascadero business trying to spend counterfeit $100 bills, as well.
Investigators request that anyone who has information about the latest counterfeiting incident call the San Luis Obispo Police Department at 805-781-7312 or Crime Stoppers at 805-549-STOP.