Video shows Cal Poly police pinning man during disputed arrest
March 13, 2017
Many Cal Poly students are enraged over footage showing university police pinning a 21-year-old man to the ground outside a San Luis Obispo liquor store. Friends of the suspect allege an undercover officer placed him in a chokehold and tackled him because the man told the policeman to "fuck off."
The incident took place Friday night outside a liquor store on Foothill Boulevard. Initial reports indicate, at the time, university police officers were conducting a sting or an operation related to underage drinking.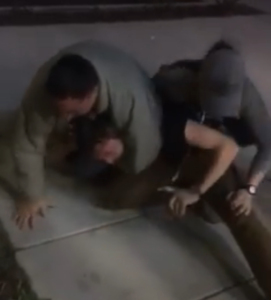 Julian Trevizo, a friend of the suspect, witnessed the incident and videotaped the arrest, beginning at the moment police officers were pinning his friend, Aidan Dugan-Colton, 21.
Trevizo stated in a Facebook post that his group of friends purchased beer at a liquor store. After buying his own beer, Trevizo put the bottles in his jacket pockets, prompting undercover officer to suspect a theft was in progress.
"An undercover cop accused us of shoplifting, asked for our receipts and IDs and detained us," Trevizo wrote. "They then threatened to cite us because we had people in the group who were 20, despite the fact that they did not purchase alcohol or exit the building with bottles in their possession.
"Our friend started calling bullshit and told them how not okay their actions were. Another individual came up and said, 'Watch your fucking language. Watch your fucking attitude.' Friend responded, 'Fuck you, don't touch me' and put his arm up in defense. Right after this, the officer put him in an illegal chokehold and brought him to the ground, scraping his face and arms."
The officer did not identify himself as a policeman until after tackling Dugan-Culton, Trevizo wrote.
Throughout the video, individuals are heard accusing police of tackling Dugan-Culton and arresting him merely because he uttered foul language at the plainclothes officers.
"I didn't touch you. I said fuck you. And then you pushed me and you fucking tackled me to the ground," Dugan-Culton said.
The officer disagreed, claiming Dugan-Culton shoved him.
"I didn't push. I have it on camera," the officer is heard saying during Trevizo's recording.
Cal Poly spokesman Matt Lazier told the Tribune that officers needed to safely subdue Dugan-Culton after he shoved one of them and failed to comply with their directions. Lazier also said the officers identified themselves as police prior to the physical altercation.
Officers eventually booked Dugan-Culton into the San Luis Obispo County Jail. He is no longer in custody.
According to Trevizo, police charged Dugan-Culton with assaulting an officer and set his bail at $20,000. Trevizo also alleged officers refused to read Dugan-Culton his Miranda rights during the arrest.
Dugan-Culton reportedly suffered a bloody nose during the altercation. Before he was taken to jail, a fire truck arrived at the scene.
The arrival of the fire truck prompted screams about wasted tax dollars.