6 tasty Easter brunch recipes
April 13, 2017
From ham to asparagus to lemon cheesecake, here's what to cook on Easter Sunday. Find the perfect Easter brunch desserts and dishes with a little help from Spencer's Fresh Markets in Morro Bay and Santa Maria.
Cheddar-Chive Biscuits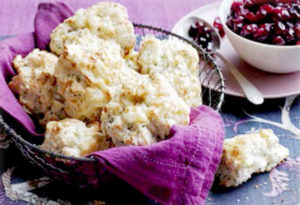 Ingredients:
2 c. self-rising flour
¼ tsp. kosher salt
¼ tsp. Pepper
¼ c. heavy cream
1 tbsp. heavy cream
½ c. lemon-lime soda (such as Sprite)
3 oz. extra-sharp Cheddar cheese
¼ c. chopped fresh chives
Directions:
1. Heat oven to 400 degrees. Line a baking sheet with parchment paper.
2. In a large bowl, whisk together the flour and 1/4 tsp. each salt and pepper. Make a well in the center. Using a fork, gently stir in the soda and 1/2 cup heavy cream, mixing just until incorporated (do not over mix). Fold in the chives and all but 1/2 cup of the Cheddar.
3. Drop spoonfuls of the batter (you should have 8 total) onto the prepared baking sheet. Brush with the remaining tbsp. heavy cream, sprinkle with the remaining 1/2 cup Cheddar, and bake until puffed and golden brown, 15 to 18 min. Serve biscuits warm or at room temp.
Spring Asparagus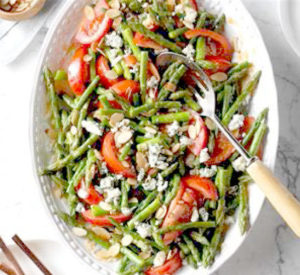 Ingredients:
1-1/2 pounds fresh asparagus, trimmed and cut into 2-inch pieces
2 small tomatoes, cut into wedges
3 tablespoons cider vinegar
3/4 teaspoon Worcestershire sauce
1/3 cup sugar
1 tablespoon grated onion
1/2 teaspoon salt
1/2 teaspoon paprika
1/3 cup canola oil
1/3 cup sliced almonds, toasted
1/3 cup crumbled blue cheese, optional
Directions:
1. In a large saucepan, bring one cup water to a boil. Add asparagus; cook, covered, until crisp-tender, 3 to 5 minutes. Drain; place in a large bowl. Add tomatoes; cover and keep warm.
2. Place vinegar, Worcestershire sauce, sugar, onion, salt and paprika in a blender; cover and process until smooth. While processing, gradually add oil in a steady stream. Toss with asparagus mixture. Top with almonds and, if desired, cheese. Yield: eight servings. Editor's Note: To toast nuts, bake in a shallow pan in a 350 degrees oven for five to 10 minutes or cook in a skillet over low heat until lightly browned, stirring occasionally.
Ham & Cheese Brunch Bake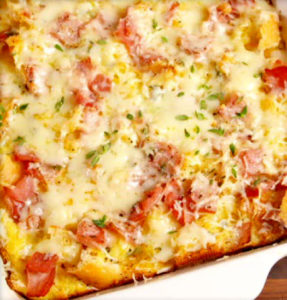 Ingredients:
10 large eggs
1 1/2 c. milk
2 tsp. Dijon mustard
2 tsp. fresh thyme leaves, plus more for garnish
1 tsp. garlic powder
kosher salt
Freshly ground black pepper
4 c. cubed French bread or baguette
1/2 lb. ham, chopped
1 1/2 c. shredded white Cheddar
Directions:
1. Preheat oven to 350 degrees. In a large bowl, whisk together eggs, milk, Dijon, thyme, and garlic powder and season generously with salt and pepper.
2. Butter a large baking dish. Add bread and top with ham and cheddar. Pour over egg mixture.
3. Bake until eggs are cooked through and ham golden, 45 to 55 minutes. (To make ahead, cover baking dish with aluminum foil and refrigerate at least 4 hours and up to overnight, then bake as directed.)
4. Garnish with more thyme and serve.
Golden-Glazed Lemon Cheesecake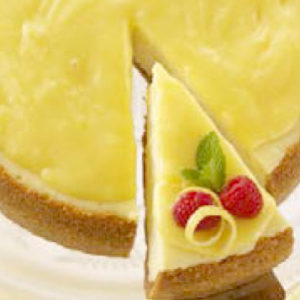 Ingredients:
2-1/2 cups graham cracker crumbs
1/4 cup sugar
2/3 cup butter, melted
Filling:
3 pkg.(8 ounces each) cream cheese, softened
1-1/4 cups sugar
3 eggs, lightly beaten
3 tbsp. lemon juice
1 tbsp. grated lemon peel
1 tsp. vanilla extract
Glaze:
2 eggs
1 cup sugar
1/4 cup lemon juice
2 tbsp. grated lemon peel
6 tbsp. butter, melted
1 to 2 drops yellow food coloring
Fresh raspberries
Directions:
1. Combine cracker crumbs, sugar and butter. Press onto bottom and 2 in. up the sides of a greased 9-in. springform pan. Place on a baking sheet. Bake at 350degrees for 10 minutes or until set. Place pan on a wire rack (leave oven on).
2. For filling, in a large bowl, beat cream cheese and sugar until smooth. Add eggs; beat on low speed until combined. Stir in lemon juice, lemon peel and vanilla just until blended. Pour into crust. Return pan to baking sheet.
3. Bake for 40 to 45 minutes or until center is almost set. Cool on a wire rack for 10 minutes. Carefully run a knife around edge of pan to loosen; cool one hour longer. Refrigerate overnight.
4. For glaze, in a small heavy saucepan, whisk the eggs, sugar, and lemon juice and peel until blended. Add butter; cook, whisking constantly, until mixture is thickened and coats the back of a metal spoon. Add food coloring if desired. Transfer to a small bowl; cool for 10 minutes. Cover and refrigerate until chilled.
5. Spread glaze over cheesecake; garnish with raspberries if desired. Refrigerate leftovers. 16 servings.
Hot Ham & Swiss Croissants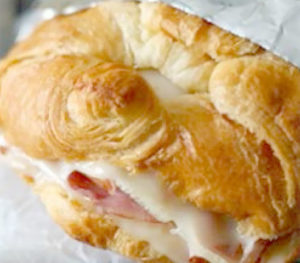 Ingredients:
2 Tablespoons Dijon Mustard
1 Tablespoon honey
1 Tablespoon brown sugar
4 croissants split
8 slices Swiss cheese
Pound deli ham (any flavor you like; you might not use the whole pound, depends on how thick you like your sandwiches)
Directions:
1. Mix mustard, honey and brown sugar together.
2. Spread honey mustard mixture on each side of the four split croissants.
3. Place a slice of Swiss on each half of the croissants.
4. Top the bottom half of each croissant with however much ham you like.
5. Place two halves back together.
6. Wrap in foil.
7. Place in fridge for later or place in a 350 preheated oven for 10-15 minute. Yum!
Jam Kolaches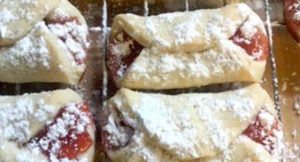 Ingredients:
1/2 cup butter, softened
3 ounces cream cheese, softened
1 1/4 cups all-purpose flour
1/4 cup strawberry jam
1/4 cup sifted confectioners' sugar
Directions:
1. Beat butter and cream cheese in mixer bowl until light and fluffy. Add flour gradually, beating well after each addition.
2. Roll dough to 1/8 inch thickness on lightly floured surface. Cut into 2-inch circles. Spoon 1/4 teaspoon jam into center of each circle. Fold opposite edges together, slightly overlapping edges.
3. Place 2 inches apart on greased cookie sheet. Bake at 375 degrees for 15 minutes.
Remove to wire rack to cool. Sprinkle with confectioners' sugar.