Board rejects Brown Act violation investigation
April 4, 2017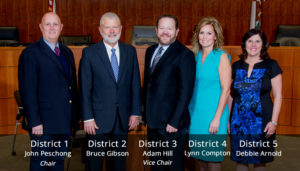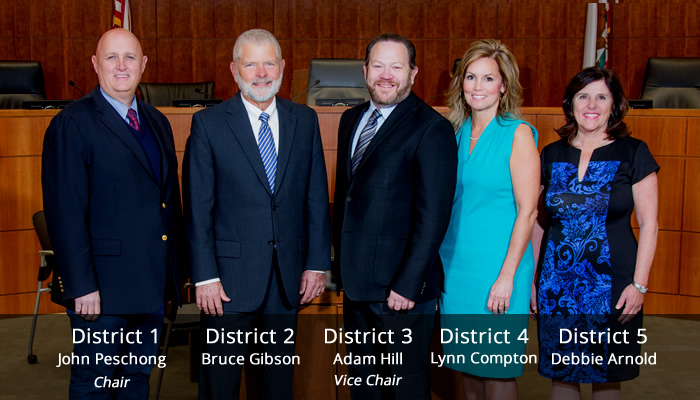 By KAREN VELIE
The San Luis Obispo County Board of Supervisors voted 3-2 Tuesday to reject a request by two supervisors and the SLO Progressives to ask the SLO County District Attorney's Office to investigate allegations of Brown Act violations.
On March 24, supervisors Adam Hill and Bruce Gibson accused supervisors Debbie Arnold, John Peschong and Lynn Compton of violating the Brown Act by conducting a serial meeting. The board then voted 5-0 to discuss whether or not to ask the SLO County District Attorney's Office to mount an investigation into the allegations.
The Brown Act prohibits three or more supervisors from communicating about county business in person or through a representative of one of the supervisors who serves as an intermediary.
During today's meeting, 27 people spoke out against an investigation. Many of the opponents called the allegations a politically motivated witch hunt.
"It is a waste of taxpayer funds," Terry Strickland said. "There is no evidence of wrongdoing. The assault by the losing side of the last election needs to stop."
There were eight speakers who spoke in favor of an investigation. Of those, the majority were part of the SLO Progressives, a newly formed political group focused on changing the board majority and promoting progressive ideals.
Laurie Gage, who on March 16 wrote a letter to County Counsel Rita Neal alleging a Brown Act violation, provided a letter signed by Greg Grewal that she said was evidence of a serial meeting. However, Grewal said parts of letter were forged.
"The letter came to me redacted," Gage countered. "It may have been altered on the way to me. The signatures may have been redacted. The letter still appears to show a consensus on how the county should be changed."
After a heated discussion, Arnold, Peschong and Compton voted against seeking an investigation. The three conservative supervisors said they had not participated in a serial meeting.
"The cost of an independent investigation is about $100,000," Peschong said. "I will not be supporting that. To have a serial meeting, you have to have a meeting."
Hill and Gibson argued that there was enough concern over the possibility of a Brown Act violation to support an investigation. Hill said it did not matter whether or not there was a meeting, they could still have violated the Brown Act.
"You guys are good at clearing yourselves," Hill said. "If there was a forgery or a fraud, maybe we should forward this to the district attorney. I think you guys are making a mess of things."