What should you do when stopped by law enforcement?
April 22, 2017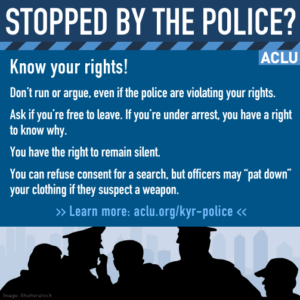 While we all rely on law enforcement to keep us safe and protect us, it is important to know your right during encounters with officers.
Throughout the Central Coast and the nation, people have demonstrated against prejudice and police violence.  People of color have found themselves stopped and questioned, suspected of being undocumented immigrants or potential terrorists.
Young people near Cal Poly complain they are stopped just for being college age.
Find out how you can legally protect yourself when law enforcement stops you or your friends.
The ACLU Chapter of San Luis Obispo County invites you to attend a free "Know Your Rights" event this Sunday at the library on the corner of Palm and Osos streets in San Luis Obispo, from 7 p.m. to 8 p.m. Complimentary refreshments will be provided.