Arroyo Grande man dies in Nipomo house fire
June 26, 2017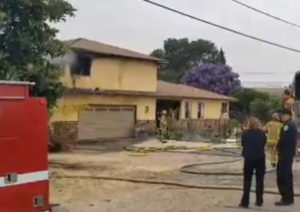 A 61-year-old Thomas Edward Gingell of Arroyo Grande man died in a Nipomo house fire Sunday morning.
Around 7:30 a.m., a fire broke out at a house located at 1885 Pomeroy Road. The fire significantly burned the second floor of the two-story home.
Firefighters arrived at the house and put out the blaze. But, they did not manage to save Gingell, who was reportedly trapped inside the home.
Authorities have yet to determine the cause of the fire. A Cal Fire investigation into the blaze is ongoing.
Meanwhile, the sheriff's office is conducting a death investigation. An autopsy will take place later this week, and it is supposed to reveal the manner and cause of death.
Cal Fire says the Red Cross is assisting the owners of the home. It is not clear who the homeowners are.