Father buries stranger's body following coroner mishap
June 25, 2017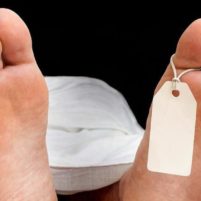 The Orange County Coroner's Office called an 83-year-old man in May and mistakenly told him his son had died. The coroner's office informed the man his son had been identified through his fingerprints. [Orange County Register]
Eleven days after Frank J. Kerrigan held a funeral for his son Frank M. Kerrigan, a friend called to tell him his son was alive. The friend then put Frank J. Kerrigan's 57-year-old son on the phone. The son suffers from mental illness and had been homeless.
On May 6, the Orange County Coroner's Office informed Frank J. Kerrigan that his son had passed away peacefully behind a Verizon store in Fountain Valley.
Frank J. Kerrigan's daughter went to the spot behind the Verizon store and found a disturbing scene that included blood and dirty blankets. She left a photo and rosary at the spot.
Meanwhile, her father was planning her brother's funeral. On May 12, Frank J. Kerrigan held a $20,000 funeral attended by about 50 people, some who came from out of state.
Following the service, Frank J. Kerrigan had the body buried at the Cemetery of the Holy Sepulchre in Orange, near where his late wife was buried.
After Frank J. Kerrigan learned his son was alive, authorities reran the deceased man's finger prints and matched them to someone else.