Lompoc prison fight leaves 12 people injured
June 22, 2017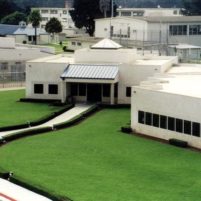 A fight at the minimum-security Lompoc Federal Correctional complex on Wednesday evening left nine inmates and three prison staffers injured. [KSBY]
Around 9 p.m., a fight broke out between inmates. Guards immediately contained the incident and sent the inmate population into their housing units, according to prison staff.
None of the injuries were life-threatening. Still, multiple ambulances came out to the prison.
Authorities placed the prison on limited operational status. Off-duty correctional officers were reportedly called in to respond to the incident.
Additionally, a checkpoint was reportedly set up in Lompoc, and drivers were forced to turn around at a bridge over the Santa Ynez River.
The Federal Correctional Complex has been in the news several times over the past year due to a string of incidents in which inmates walked away from the prison camp.