Santa Maria probationer found with stolen passports and drone
June 15, 2017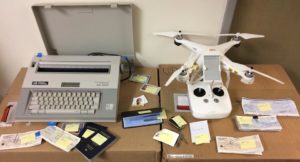 While conducting a probation check at a Santa Maria home on Tuesday, authorities found drugs and a wide variety of stolen items, including passports, checks and a drone.
Around 3:30 p.m., Santa Barbara County probation personnel and the Compliance Response Team checked the home of Pablo Ordaz, 27 and found methamphetamine and stolen property, including passports, checks, drivers' licenses and a professional model drone.
Investigators also found items used to forge checks and create false identification cards, according to the Santa Barbara County Sheriff's Office. Authorities arrested Ordaz and booked him into the Santa Barbara County Jail, where he is being held without bail.
Ordaz is currently charged with violating the terms of his probation and possession of a controlled substance. Sheriff's officials are requesting that prosecutors file additional charges related to the thefts and possession of stolen items.
A stolen property investigation is still ongoing. Deputies have located several theft victims, including the owner of the drone. Most of the items that authorities recovered were not reported stolen.
Sheriff's officials encourage anyone who thinks they may have been a victim of theft to report the incident to the local law enforcement agency. Likewise, residents are encouraged not to leave valuables in unsecured vehicles.