SLO attorney accused of theft
June 17, 2017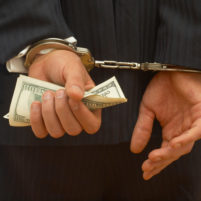 FBI agents arrested a San Luis Obispo attorney Thursday on 28 counts of wire fraud related to allegations he stole approximately $250,000 from the trust account of a client to spend in gambling casinos. Stephen Ronca then pleaded not guilty and was released on $100,000 bail.
Ronca allegedly transferred money from a client's living trust into his own account. He also withdrew some of the money while at casinos in Las Vegas, South Lake Tahoe and Santa Ynez, according to a federal indictment.
In addition, Ronca allegedly used property held in the trust as collateral for a loan. To pay off the loan, Ronca then sold the property located on Poinsettia Street in San Luis Obispo.
In March, the State Bar of California suspended Ronca's law license for 30 days and placed him on probation for a year for gross negligence.
"Ronca stipulated that due to gross negligence, he mishandled his client trust account and failed to maintain sufficient funds to cover all client related payments from it, an act involving moral turpitude, dishonesty or corruption," according to the State Bar of California. "In aggravation, there were multiple acts of wrongdoing. In mitigation, Ronca had practiced for 18 discipline-free years."
Ronca's trial is scheduled for Aug. 8 in Los Angeles. Each of the 28 fraud charges carries a maximum sentence of 30 years in federal prison.