Unlicensed teen driver critically injures student in Paso Robles
June 1, 2017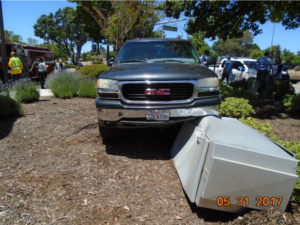 An unlicensed 16-year-old driver who was pulling out of the Paso Robles High School parking lot on Wednesday, crashed into a 17-year-old girl, according to the city's police department. The victim suffered critical injuries and remains hospitalized.
Around 12:40 p.m., the 17-year-old girl was walking on the sidewalk with her friend when she was struck by a GMC Yukon that was trying to turn onto Niblick Road, according to witness statements to police. After striking the girl, the SUV drove over the sidewalk and into a garden area where it ultimately crashed into a utility control box, a Paso Robles police news release states.
Paramedics arrived at the scene and delivered first aid before transporting the girl in an ambulance to Twin Cities Community Hospital in Templeton.
Police say neither drugs nor alcohol appear to be factors in the collision. The police department press release made no mention of an arrest or citation.
An investigation into the crash is ongoing. PG&E workers and Paso Robles Unified School District personnel are assisting with the investigation.