Bicyclist killed by train in Goleta
July 22, 2017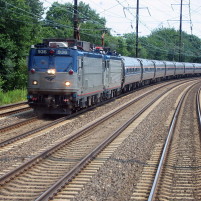 A bicyclist wearing headphones was hit and killed on July 20 by an Amtrak passenger train in Goleta.
Shortly before noon, 51-year-old Edmund Alexander Backus was riding his bike on La Patera Lane near the train station when he was hit from behind by a northbound train. The conductor blasted the horn repeatedly but Backus appeared not to notice.
The engineer, who was already slowing down for a stop, applied the emergency braking system but was unable to avoid hitting Backus.