Arroyo Grande commander to be appointed police chief
August 21, 2017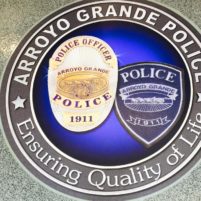 Following the recent retirement of its top cop, the city of Arroyo Grande is planning on appointing its highest ranking law enforcement officer as the next police chief.
Former Arroyo Grande police chief Steve Annibali formally retired on Aug. 8, and for the last eight months, Commander Beau Pryor has served as acting chief. City Manager Jim Bergman is now recommending that the Arroyo Grande council hire Pryor as Annibali's permanent replacement.
Pryor worked closely with Annibali to develop the experience and knowledge needed to become police chief, Bergman said in a staff report.
Pryor has been a member of the Arroyo Grande Police Department for 23 years, five of which he has served as commander. Before becoming a commander, Pryor served as a motorcycle traffic officer, senior police officer, detective, sergeant, and detective sergeant. He has also served as a field training officer, a bicycle patrol officer and a member of the Special Response Team.
A draft contract calls for Pryor's salary as police chief to be $11,502 per month. The salary range for Arroyo Grande police chief is $11,005 to $13,383 a month.
The council will meet at 6 p.m. Tuesday. If Pryor's hire is confirmed, he will officially take over as police chief on Friday.