Arsonists reportedly seen running from Lompoc brush fire
August 8, 2017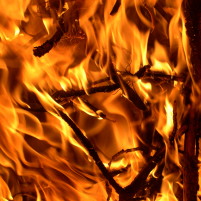 A fire broke out in a Lompoc riverbed on Monday, and Lompoc police are now searching for two boys who are accused of starting the blaze.
The blaze burned 2.2 acres in the riverbed near A Street and Central Avenue, according to the Santa Barbara County Fire Department. Firefighters quickly contained the blaze.
Nancy Rudd, who witnessed the fire, said she was on a walk with her granddaughter when they smelled smoke and saw two boys starting a fire. Rudd said she approached the boys, and they started running. [KSBY]
The grandmother also said she was going to putout the blaze, but the fire spread rapidly.
Rudd and her granddaughter called 911 and gave statements to police and fire investigators about what happened. One of the boys was about 13 years old or older and the other was around seven or eight years old, Rudd said.
The fire was no accident; the boys purposely started the fire, the woman said.