Body found inside occupied vehicle in Cayucos
August 16, 2017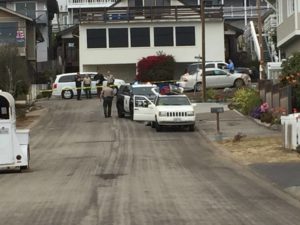 San Luis Obispo County Sheriff's deputies found a dead body Tuesday inside an SUV that was occupied by a man, a woman and a teenage girl.
Shortly before 3 p.m., deputies were patrolling Cayucos when they noticed an SUV parked in the wrong direction in the 100 block of F Street. The deputies spoke with the occupants of the vehicle and noticed a strong odor coming from the back of the SUV.
After investigating further, the deputies found a body in the back cargo area of the SUV, according to a sheriff's office press release. Detectives came out to the scene, collected evidence and interviewed witnesses.
The Detectives detained each of the occupants of the vehicle for questioning. The individuals inside the vehicle with the body were an adult male, an adult female and a 13-year-old girl, according to the sheriff's office.
Investigators believe the incident was isolated, and the public is not in danger. An investigation is ongoing.
Authorities have yet to release any information about the identity of the deceased person.