Carrizo Plain likely to remain national monument
August 24, 2017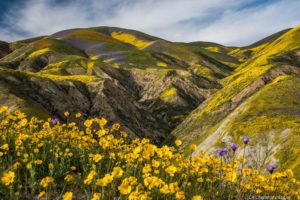 The Carrizo Plain will remain a national monument if President Donald Trump follows the advice of his interior secretary.
In April, Trump issued an executive order calling for a review of 27 national monuments, prompting concerns about the potential loosening of protections against mining, logging and oil drilling. Trump's order instructed Interior Secretary Ryan Zinke to review all national monuments that make up 100,000 acres or more and were created by presidential proclamation since 1996.
The Carrizo Plains National Monument spans 204,107 acres and was declared a national monument by President Bill Clinton in 2001. It appeared on Trump's review list.
Under the 1906 Antiquities Act, either Congress or the president can protect federal lands by designating them as a national monument. Trump suggested, though, that past presidents, particularly recent ones, had been abusing the Antiquities Act.
"The Antiquities Act does not give the federal government unlimited power to lock up millions of acres of land and water, and it's time that we ended this abusive practice," Trump stated.
Following his review of the national monuments, Zinke announced that he was recommending to Trump that none of the monuments lose their designations. Zinke also vowed that no federal land would be sold or transferred.
However, the interior secretary stated that some national monument designations remain controversial, and some of the monuments contain private property within their boundaries. It is unclear whether Zinke is recommending altering the boundaries of some monuments and/or opening them up to industrial uses.
"No president should use the authority under the Antiquities Act to restrict public access, prevent hunting and fishing, burden private land or eliminate land uses, unless such action is needed to protect the object," Zinke stated in a press release. "The recommendations I sent to the president on national monuments will maintain federal ownership of all federal land and protect the land under federal environmental regulations and also provide a much needed change for the local communities who border and rely on these lands for hunting and fishing, economic development, traditional uses and recreation."
Zinke conducted a 120-day review of national monuments, which included more than 60 meetings with hundreds of advocates and opponents of monument designations. Zinke also took tours of monuments by foot, car, air and horseback, and his agency reviewed more than 2.4 million public comments that were submitted.