Fire breaks out at SLO homeless camp
August 18, 2017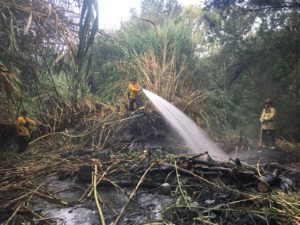 A fire broke out at a homeless camp in San Luis Obispo early Thursday morning, and the blaze spread into thick vegetation. San Luis Obispo firefighters responded quickly, though, and extinguished the blaze.
Fire officials say the blaze was started by a person or persons.
Around 5 a.m., drivers reported a fire burning near Highway 101 and the Los Osos Valley Road interchange. Firefighters arrived and found the blaze burning deep inside a creek bed where there was heavy vegetation.
It took firefighters less than a half hour to the extinguish the blaze. The fire burned approximately 50 square feet.
A total of eight firefighters and two engines responded to the blaze. They used about 2,000 gallons of water to put out the fire.
Over the last few years, there have been numerous incidents of arson in San Luis Obispo, and fire officials have said some of the blazes were set in areas where homeless people congregate. Fire officials have also said some of the fires over the last few years in SLO have targeted homeless people's belongings.