Teen with knife stands off with deputies in Santa Barbara grocery aisle
August 17, 2017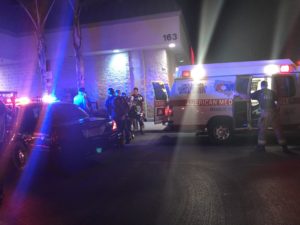 An incident of teens shoplifting from a grocery store on Wednesday morphed into a police chase in and out of a supermarket and an hour-long stand off with an armed teenager.
Shortly after 7 p.m., a group of juveniles were reportedly shoplifting at the Vons grocery store in the 100 block of Turnpike Road on the outskirts of Santa Barbara. Santa Barbara County Sheriff's deputies came to the scene, as did CHP officers.
Deputies chased a 15-year-old armed with a knife in and out of the store. After about 15 minutes, deputies cornered him in an aisle.
The teen was very agitated, and he repeatedly threatened to fight deputies, according to a press release. For about an hour, the deputies tried to talk the teen into peacefully surrendering, but he continued to challenge the deputies to a fight.
Ultimately, deputies arrested the teen with help from the sheriff's K9 team. The juvenile suffered undisclosed injuries, and an ambulance transported him to a hospital.
The teen will be booked into Juvenile Hall on charges of vandalism, theft and felony resisting arrest once he is released from the hospital.