SLO County coalition rallies against state gas tax
August 16, 2017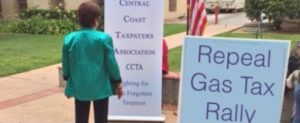 A coalition of conservative-leaning San Luis Obispo County groups rallied in downtown SLO on Monday against the state of California's new gas tax law. The rally held outside the county courthouse launched a local effort within a statewide signature drive aimed at repealing the tax increase.
SB 1, the new gas tax law, increases gas taxes and vehicle registration fees in order to raise $5.2 billion annually, or $52 billion over the next decade, for road repairs and maintenance and other transportation related projects. Starting in November, the tax on gas will increase 12 cents from 18 cents per gallon to 30 cents per gallon.
Taxes on diesel will increase even more. The excise tax on diesel will go up 20 cents from 16 cents a gallon to 36 cents per gallon, and the diesel sales tax will rise from 1.75 percent to 5.75 percent.
The legislation also creates a new vehicle registration fee ranging from $25 a year to $175 annually.
In May, Assemblyman Travis Allen (R-Huntington Beach) filed an initiative calling for the repeal of SB 1. Allen is striving to place the initiative on the Nov. 2018 ballot. Backers of the initiative are engaged in a 150-day process of trying to gather 365,880 signatures from registered California voters.
Local groups represented at Monday's rally included the Central Coast Taxpayers Association, A Better Atascadero, the San Luis Obispo Property and Business Owners Association, the SLO County Republican Party, the North County Tea Party, the Port San Luis Commercial Fishermen's Association and several local Republican women's organizations.
"This rally is about standing up for the forgotten taxpayer of California," said former congresswoman Andrea Seastrand, the president of the Central Coast Taxpayers Association. "Governor Jerry Brown and the California Democrats' controversial gas tax and vehicle fee increase has launched a statewide campaign to let voters decide if they want to repeal it."
A poll released in June by the UC Berkeley Institute of Governmental Studies (IGS) found 58 percent of Californians oppose SB 1 while only 35 percent of voters support it. Though voters oppose the gas tax, they remain supportive of Gov. Brown, who has a 59 percent approval rating, according to the IGS poll.