SLO police searching for thief, video
April 15, 2018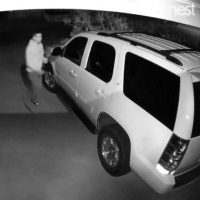 San Luis Obispo police are searching for a man who was caught on surveillance film Friday night burglarizing a car in SLO. [Cal Coast Times]
In the video, a man wearing a white or light-colored sweatshirt with an emblem on the back , crouches down as he walks down a driveway towards the driver's side door. The thief tries the door, which was unlocked.
The thief rummaged through the vehicle before leaving the scene.
Officials are asking the public to help identify the suspect. Anyone who recognizes the thief is asked to contact Officer Parsons at (805) 594-8072.
Property was stolen from a vehicle parked in a driveway last night, and here is video of the crime. If anyone knows this guy please contact Officer Parsons at (805) 594-8072. Thank you in advance for your help catching this thief. jb pic.twitter.com/OmTjYJvVrk

— Deanna Cantrell (@slopdchief) April 14, 2018
Property was stolen from a vehicle parked in a driveway last night, and here is video of the crime. If anyone knows this guy please contact Officer Parsons at (805) 594-8072. Thank you in advance for your help catching this thief. pic.twitter.com/OmTjYJvVrk
— Deanna Cantrell (@slopdchief)