Are hate crimes increasing in SLO County?
July 11, 2018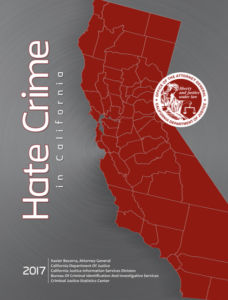 San Luis Obispo County law enforcement agencies reported nine hate crime incidents in 2017, three times more than in 2016, according to California Department of Justice statistics. However, hate crimes are not necessarily trending up in SLO County. [Cal Coast Times]
The state of California defines a hate crime as a crime motivated by the victim's race, ethnicity, national origin, religion, gender, sexual orientation or physical or mental disability. The state Department of Justice tallies hate crime incidents reported by law enforcement agencies. Many of the incidents do not result in charges being filed in court.
Of last year's nine SLO County hate crime incidents, the San Luis Obispo Police Department reported five of the incidents, and the county sheriff's office reported three. The only other reported hate crime incident occurred at the Oceano Dunes.
The nine incidents involved a combined 14 victims and six suspects.
Only three of SLO County's 2017 hate crime cases were referred to prosecutors. Charges were filed in each of the three cases.
In 2016, none of the three reported hate crime incidents were referred to prosecutors or resulted in prosecution. Two of the three reported 2016 incidents occurred in San Luis Obispo while the other occurred at Cal Poly.
Over the last 12 years, the number of reported hate crime incidents in SLO County has fluctuated up and down, ranging from three to 14. The high of 14 reports occurred in 2007, in which there were 10 hate crime incidents reported in the city of SLO alone.
Statewide, reports of hate crime incidents increased 17.4 percent last year, rising from a total of 173 in 2016 to 195 in 2017. But as is the case locally, the number of statewide hate crime reports had been a lot higher a decade prior. In 2008, California law enforcement agencies reported a total of 353 hate crime incidents.
In 2017, the groups in California that faced the sharpest rise in hate crime incidents were Hispanics and Jews. Anti-Hispanic incidents reported by law enforcement rose 51.8 percent in 2017, while anti-Jewish incidents increased by 26.8 percent.
Already in 2018, San Luis Obispo police made a hate crime arrest. Officers arrested a San Luis Obispo High School student who threatened to physically assault another student because of his autism and also engaged in a physical altercation with the victim.