Man assaults 67-year-old woman in SLO, video
July 13, 2018
San Luis Obispo police are searching for an unidentified man who assaulted 67-year-old woman at a senior living complex on Tuesday morning. [Cal Coast Times]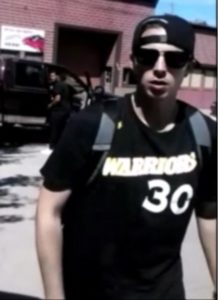 The woman was taking out her trash when she noticed a black truck partially blocking her driveway and two men outside the truck who appeared to be involved in a transaction, the victim said. She asked the men to move it along, and the younger man became verbally abusive and swung at the elderly woman.
During the altercation, the young man dropped his phone.
While the victim filmed the incident with her cell phone, the young man wearing a "Warriors" shirt with sunglasses, a backwards hat and a backpack is seen walking up to her and taking a swipe at her with his right hand.
"You do not come at me," the victim said.
The suspect responds by saying, "You just broke my phone."
After the man takes a swipe at the victim, she says, "You are now getting it for assault." She also screams "Call 911. Call 911."
The man in the Warriors shirt then walks away from the property.
As the video is ending, the man who was affiliated with the assailant approaches the elderly woman, who tells him, "You don't come towards me."
Police are circulating a photo of the man wearing the Warriors shirt. A statement issued by police on social media says the man was trespassing on a property near the intersection of Pismo and Carmel streets. The suspect tried to hit the phone out of the hand of the elderly woman but hit her instead, according to police.
Investigators are trying identify the man and police are seeking him for elder abuse. Anyone who recognizes the suspect is asked to call the police department at (805) 781-7312 and reference case number 180710028.