SLO to pay $55,000 settlement for firefighter dispute
July 12, 2018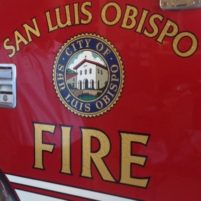 In order to settle a heated dispute with firefighters pertaining to overtime compensation, the city of San Luis Obispo is set to pay a total of more than $55,000, most of which will go toward legal costs. [Cal Coast Times]
Relations between the city of SLO and its firefighters union "have been strained for some time," a current city staff report states. More recently, in late 2016, some firefighters sued the city in federal court over the calculation of overtime payments.
The lawsuit alleges the city failed to include cash in lieu of health insurance in the regular rate of pay when calculating overtime compensation, thus underpaying firefighters. Last month, the city and the firefighters reached a settlement in the court case.
As part of the settlement, the city agreed to pay approximately $3,000 combined to the plaintiffs over a three-year period for miscalculating overtime payments. The settlement also calls for the city to pay $39,650 to cover the plaintiffs' attorney's fees, as well as $12,799 to cover expenses the fire union incurred by hiring experts to review overtime compensation.
City officials say reaching a settlement in the case was prioritized because legal costs could rapidly escalate and dwarf the amount of money owed to firefighters for miscalculated overtime compensation.
Next Tuesday, the San Luis Obispo City Council is slated to approve the settlement. But, the settlement does not only consist of a resolution to the lawsuit.
The city and its firefighters have agreed to resolve a host of issues, some of which also relate to overtime compensation. As a budgeting approach, city officials favor reducing the amount of overtime firefighters work, and instead, bringing on new fire personnel to help handle the workload.
In addition to settling the lawsuit, a comprehensive settlement agreement between the city and its firefighters also includes a three-year successor memorandum of understanding. The MOU between the city and its fire union grants firefighters cost of living adjustments, or raises, of 1 percent in 2018, 2 percent in 2019 and 2 percent in 2020. Members of the firefighters union, however, must increase their contributions to city pension costs.
Furthermore, the settlement states the city will hire one additional firefighter per shift available in order to cover routine absences. Lastly, the settlement states fire battalion chiefs are not eligible for overtime under the Federal Labor Standards Act.
The settlement comes at a time in which the city is faced with an $8.9 million budget shortfall over the next three years,  largely because of rising pension costs. The city council will meat at 4:30 p.m. on July 17 to discuss the settlement.